Reggidency: Comedy Bang Bang's Reggie Watts heads to SF Sketchfest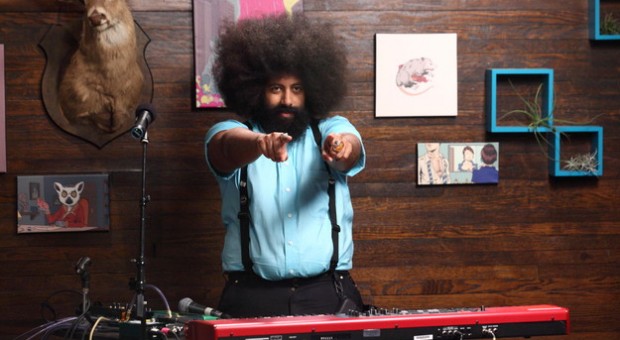 Posted by Melissa Locker on
Okay, we give. We're going to have to pack our bags and head out West where the streets are curvy, the summers are cold and the SF Sketchfest, the San Francisco comedy fest that runs from Jan. 24 to Feb 10, is happening. Not only is our adopted comic Chris Gethard taking his aptly-named cable access show The Chris Gethard Show to San Francisco, but our favorite one-man house band, Comedy Bang Bang's Reggie Watts, is heading to SF Sketchfest, too for a three-night residency a.k.a. a Reggidency. So we're going to start hitchhiking our way out west to the SF Sketchfest, too. With Chris and Reggie bringing the laughs, how can we resist? And why would we want to?
For three nights (Jan. 27 – 29) Reggie Watts will team up with SF Sketchfest, Another Planet Entertainment, Noise Pop and us (IFC, in case you forgot) to present three completely unique experiences filled with music, laughter and special guests.
Part one of the Reggidency takes place Sunday, January 27th at 8pm at the Marines' Memorial Theatre and features Reggie Watts and The Amy O'Neal Dance Crew for a night of movement and music. Amy is a Seattle based choreographer, dancer, performer and dance educator who is a frequent collaborator with Reggie. Join Reggie and Amy and her Crew for a one-of-a-kind collaboration of dance, music and comedy.
Part two features "Police Academy" star and sound effects legend Michael Winslow for a Sound Effects Summit. Michael Winslow can imitate over 1,000 sound effects using his voice alone. Don't miss the first time meeting of two sound effects masters as they collaborate and perform solo pieces, when it happens on Monday, January 28th at 8pm at The Independent. Part 3 of the Reggidency takes place Tuesday, January 29th at 8pm at the Mezzanine. This time Reggie Watts teams up with jazz pianist Robert Glasper and special guest Chris Dave. Reggie and Robert are reuniting after a wildly successful debut collaboration at the 2012 SF Sketchfest, where they improvised an entire set of music and comedy with no preconceived notions or rehearsal. This time they'll make it a trio, adding drummer Chris "Daddy" Dave.
Want to buy tickets? Head here. We'll see you there!
Want the latest news from Comedy Bang! Bang!? Like them on Facebook and follow them on Twitter@comedybangbang and use the hashtag #cbbtv.