Quentin Tarantino considering making a kids movie or mini-series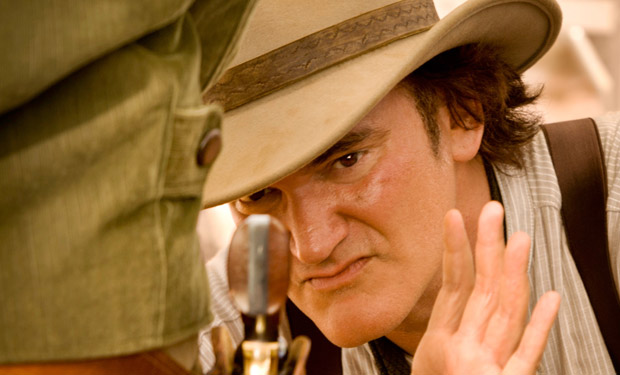 Posted by Terri Schwartz on
The sky's the limit for Quentin Tarantino, and he's ready to start experimenting. Though he's said in the past that he'd prefer to only make a total of 10 movies and that an "Inglourious Basterds" spinoff called "Killer Crow" could be one of them, he's now added a kids movie and mini-series to the list of projects he'd like to tackle.
"I just haven't come up with a good [kids movie] story yet or something like that, but I could be interested in that," Tarantino told Craig Ferguson. "I did a movie and one of the assistant editors on the film had worked on 'Mighty Ducks 2' or something and they were talking about when they would do the screenings for 'Mighty Ducks' and they would bring the kids in, and they were talking about the fact that the kids that they brought in were so into the first 'Mighty Ducks' that when they went to see '2,' they were rabid with excitement. I kind of like the idea of an audience being rabid with excitement."
Tarantino went on to say that he was really impressed with the miniseries "Hatfields & McCoys" this year and that he's always thought about doing a miniseries. In fact, he went on to say that he had originally conceptualized "Inglourious Basterds" as a miniseries, but then Luc Besson convinced him to make it as a movie. That hasn't stopped him from toying with the idea though, and it could be something Tarantino returns to.
"I would totally do something like that. I write these big long scripts and I usually have to cut them down to make them the right size length," he said. "I could totally see myself writing a cool novelistic life story not having the restriction of a two-and-a-half hour time limit."
In a separate interview with Charlie Rose, Tarantino admitted he'd also like to bring Johnny Depp into one of his projects in the future.
"We would love to work together. We've talked about it for years. Not that we get together and talk about it for years, but from time to time," he said. "We're obviously fans of each other. It just needs to be the right character. I just need to write the right character that I think Johnny would be the right guy to do it with. And if he agrees, then we'll do it. And then it'll be magical."
Would you want to see Tarantino make a kids movie or miniseries? Tell us in the comments section below or on Facebook and Twitter.