"jOBS" gets a release date, first clip released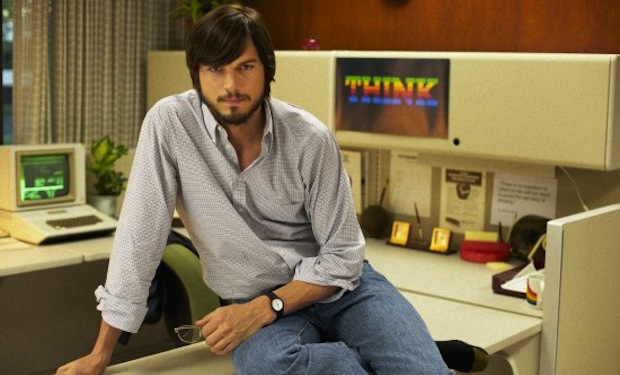 Posted by Terri Schwartz on
"jOBS" finally has a release date. Open Road Films has announced that the movie will come out on April 19, 2013.
This news comes a day before the film is set to close out the Sundance Film Festival. As we await the influx of reviews that are sure to come, Entertainment Weekly has the first clip from the film. It shows Ashton Kutcher's Steve Jobs gushing over the fact that Josh Gad's Steve Woz just developed a real-time computer operating system. According to EW, the scene is set in the parking lot of Hewlett Packard.
"This is freedom! This is freedom to create, and to do and to build, as artists, as individuals," Jobs says in the clip.
His Apple co-founder Woz responds, "Look! You're over-reacting! Even if you were developing this for freaks like us, and I doubt you are, nobody wants to buy a computer, nobody!"
And then the zinger: "How does somebody know what they want if they've never even seen it?"
Though Kutcher will always be Kutcher to us, he slips right into the role of Jobs and does a great job selling the character. Will the entire movie live up to this clip? Maybe, and fortunately we won't have to wait long to find out.
Directed by "Swing Vote's" Joshua Michael Stern, "jOBS" stars Kutcher, Josh Gad and Dermot Mulroney. Here's the official Sundance plot synopsis:
The true story of one of the greatest entrepreneurs in American history, 'jOBS' chronicles the defining 30 years of Steve Jobs' life. 'jOBS' is a candid, inspiring and personal portrait of the one who saw things differently.
What did you think of the clip? Tell us in the comments section below or on Facebook and Twitter.