"Iron Man 3" poster reveals a falling Tony Stark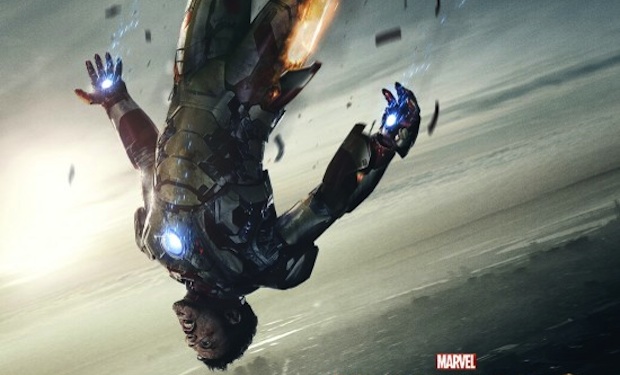 Posted by Terri Schwartz on
With an "Iron Man 3" Super Bowl TV spot premiering on February 3 and the movie hitting theaters in only three short months, the hype machine is going full steam for the first installment of the Marvel Cinematic Universe: Phase Two.
In anticipation of the Super Bowl spot, Disney has released a new poster from the film that shows the title character in dire straights. Tony Stark can be seen falling from the sky as his armor gets stripped away, a look of terror on his face.
Of course, "Iron Man 3" is supposed to be a lot more lighthearted than these promos let on. Marvel President Kevin Feige has said time and again that this movie is going to be reminiscent of the first "Iron Man" in tone.
"I would say that the exercise of this film is very much standalone, more so than any 'Iron Man' film since the first one. But because we are in Phase Two and we're heading towards another 'Avengers' movie, there's certainly a road that's being paved — you just might not notice it," Feige told MTV News of how "Iron Man 3" will fit into the greater MCU. "While you're driving on the road, not knowing where it's going, you might not realize that there are road signs and signals and lane changes that we're setting up now — they might not be readily apparent the first time you see the movie."
"Iron Man 3" is based on Warren Ellis' "Iron Man" comic book series "Extremis." The flick is directed by Shane Black and also stars Robert Downey Jr., Gwyneth Paltrow, Don Cheadle, Guy Pearce, Rebecca Hall, Jon Favreau, Wang Xueqi and Ben Kingsley.
Pearce's Aldrich Killian looks to be the movie's big bad as a co-creator of the Extremis serum, which creates a new breed of supersoldier. He and partner Maya Hansen, played by Hall, opt to place the serum in the hands of terrorists and set them up against Iron Man in order to prove the strength of Extremis. It was announced at San Diego Comic-Con that Kingsley will play The Mandarin. "Iron Man 3" will hit theaters on May 3, 2013.
What are you most looking forward to about "Iron Man 3"? Tell us in the comments section below or on Facebook and Twitter.