Exclusive: Spindrift "Ghost of the West" trailer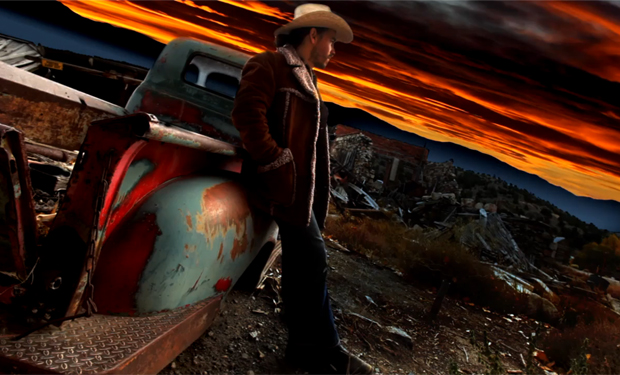 Posted by Brandon Kim on
Our old pals, Spindrift, are back to shooting psychedelic films in dusty landscapes with their brand of cinematic western psyche. This past fall, Singer Kirpatrick Thomas and his posse toured the old west and the ghost towns that still stand along long abandoned stretches of dirt road. Turns out decaying infrastructure has always been a problem, it's just more romantic the older, and further west it is. The band decided that their next album, "Ghost of the West" be a true labor of love project and this is a stunningly saturated sneak peak at the visually satisfying portion of it.
"We recorded it by campfires in the desert, in historic homes, and mixed it right up the street from Gene Autry's old house in Studio City, CA. Originally, it was planned to just be an album," Thomas said. "Then, the idea came along to present it as a film about the history and preservation of the Old West."
The band teamed up with director Burke Robert, with whom they have collaborated before, to bring the mystique of the ghost tour to light — really great lighting. It's like a beautifully curated Pinterest board on the old west exploded with a menacing peyote trip. And the music ranges between dancey hoedowns and haunting jangles over the sound of a parched dust up in the middle of nowhere.
"Henceforth, we did the Ghost Town Tour in Oct 2012 and Director Burke Robert's Co. captured over 200+ hours of footage," Thomas recalled. "From what we've been seeing on the cutting board, his experience and expertise is perfect for this film. He did grow up on Roberts Ranch(a 6th generation, 16,000 acre, historic cowboy ranch) in Larimer County, CO after all!"
video player loading
.
.
.
Spindrift Spring tour dates:
Sat 02/02 – LA Fort, Los Angeles, CA DUST UP Screening/Party/Show w/ SPINDRIFT & GRAM RABBIT
Thr 02/14 – Marine Room Tavern Laguna Beach, CA
Fri 02/22 – Audies Olympic Fresno, CA(w/ Gram Rabbit, Strange Vine, Matt Tow)
Sat 02/23 – Brick & Mortar San Francisco, CA(w/ Gram Rabbit, Matt Tow, DJ Joel Gion)
Wed 03/06 – "Treasure of the Black Jaguar" Los Angeles Movie Premier
Thr 03/07 – Tucson, AZ Club Congress w/ Gram Rabbit
Fri 03/08 – Dragoon Saloon Tombstone, AZ w/ Gram Rabbit
Sat 03/09 – TBA, Albuquerque, NM
Sun 03/10 – Taos Shortz Film Fest Presents: Spindrift @Taos Mesa Brewing, Taos NM w/ Gram Rabbit, The Art of Flying, The Fireflies
Wed 03/13 – Ft. Worth, TX The Wherehouse w/ Gram Rabbit
Further dates including several at SXSW will be here.
It was hard to pick a shot from all the great imagery here, but we had to settle on one to feature. Let us know your favorite shots in the comments below or on Twitter or Facebook!