Exclusive Premiere: Mean Creek "Come On, Before It's Gone"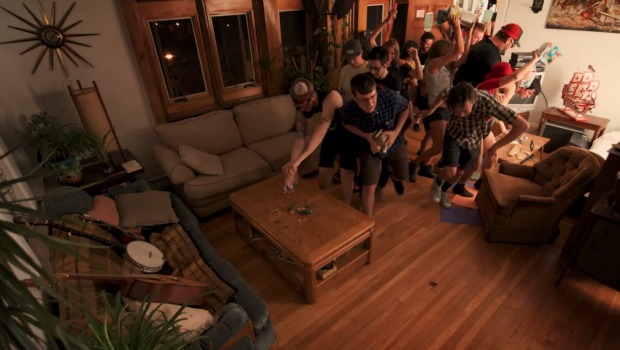 Posted by Melissa Locker on
There's something about Mean Creek's seductively unapologetic pop punk that makes you nostalgic for the rock and roll you listened to as a kid, the songs that made up the soundtrack to warm summer days spent with friends listening to tunes on the back porch or the front stoop of your childhood home. Their gritty sound harks back to bands of decades past, filled with chord progressions and guitar riffs that would be at home on albums by Sugar, Big Star, Bruce Springsteen or even, on occasion, Nick Cave. On "Youth Companion," Mean Creek's third full-length album their simple straight-forward rock rhythms are paired with sentimental lyrics about growing up and letting go. The album, which is the Boston group's best to date, "feels like the album we always wanted to make from when we were kids all the way up to where we are now in our lives," according to Chris Keene, the band's front man.
That sense of youthful nostalgia and end-of-summer longing runs throughout the new video for the band's latest single "Come On, Before It's Gone," directed by James Lindsay & Richard TK Hawke and produced by Eponymous Films. In the video, the song's gritty guitar chords, relentless drumming and soaring vocals and evocative lyrics, are paired with a frenzied friend fest. "The video was shot on one of the last great nights of summer," explained Mikey Holland, the bands drummer. "The idea was pretty simple, really: Get all of our best friends in my apartment, enjoy the company and kill many beers. The video is really just a document of that night. For days after I was reeling in all the moments and conversations I had. I guess in a way it was a perfect goodbye to the summer and also a goodbye to friends whom have since moved all over the country."
Watch the exclusive premiere of Mean Creek "Come On, Before It's Gone" now:
video player loading
.
.
.
Catch Mean Creek on the road:
January 24 – Boston, MA – RadioBDC at The Black Rose
January 28 – New York, NY – Cake Shop (w/ Thick Wild)
February 1 – Providence, RI – Fete Lounge
March 1 – Brooklyn, NY – Shea Stadium
Want the latest news from IFC? Like us on Facebook and follow us on Twitter @ifctv.