Exclusive Premiere: Jamaican Queens "Water"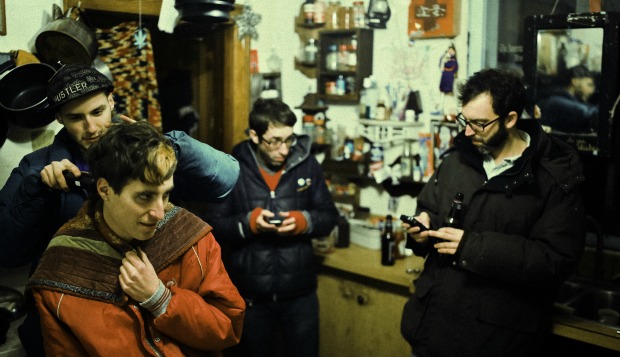 Posted by Melissa Locker on
The phrase "Detroit trap pop" may not mean anything to you, but that's just because you haven't heard Jamaican Queens yet. The Detroit-based duo some how manages to combine southern trap beats and hazy synth-driven experimentalism to end up sounding something like the lovechild of Grizzly Bear and Young Jeezy. You don't really want to know how it happened, but you definitely want to sit back and enjoy the end result.
Friends and former bandmates in Prussia, Ryan and Adam, teamed up to craft Jamaican Queens' debut album Wormfood, crafted out of tracks the band has dubbed "post-everything pop." The LP is electrically eccentric, deftly jumping between genres and seamlessly combining indie rock, dub, electronica and folk influences. The resulting pastiche is beautifully erratic, filled with elusive and resonant hooks. The band also doesn't shy away from intense and R-rated imagery. Their first single "Kids Get Away," was supposedly inspired by the time a friend was attacked on the streets of Detroit. Now comes "Water," a song about finding love on ecstasy. "Water is a song that I wrote about an intense experience I had coming down from ecstasy at a festival," Jamaican Queens' singer Ryan said. "At the beginning of the trip, I met a girl that I thought to be the only person I needed for the rest of my life, but by the end of the night and depletion of all my serotonin, my "E-goggles" had worn off. The world was then shallow and grey. Once the honeymoon or glam drugs are gone, all you're left with is harsh reality." The video, written and directed by Adam Michael Perzanowski and Suki Gershenhorn, reflects that feeling.
Watch the video for Jamaican Queens "Water" now:
video player loading
.
.
.
Want the latest news from IFC? Like us on Facebook and follow us on Twitter @ifctv.