Exclusive Premiere: Buke and Gase "Hiccup"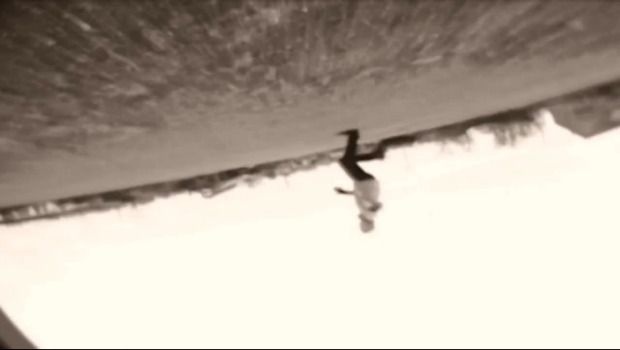 Posted by Melissa Locker on
The unpredictable and inventive duo of Buke and Gase have a new album, "General Dome" out today on Brassland. On the new record, the New York-based group continues their trend of creating some of the most both delicate and magnetic music around, filled with explosive textures and fiery layers built on the unique sounds of the band's homemade instruments– the buke and gase. Frontwoman Arone Dyer plays buke, a self-modified six-string baritone ukulele and adds an impressive vocal punch, while bandmate Aron Sanchez plays a gase, a guitar-bass hybrid of his own creation – an acoustic body with both guitar and bass strings with separate outputs for each with their own respective effects and amplifiers. Adding to their sound, Sanchez plays a mighty kick drum while Dyer straps bells to her leg. The combination of unexpected instrumentation with selective percussion and soaring, swirling vocals makes for mesmerizing music.
Their song "Hiccup," which earned the title of best new music from Pitchfork (no small feat) is dynamic and dissonant. The new video, which we are premiering today, is adds to the dizzyingly percussive effect of the song. The track was released in "sympathy" with the Occupy movement on May Day of last year and it's hard not to imagine people marching along to it.
Watch the video for Buke and Gase's "Hiccup" and pick up their new album today:
video player loading
.
.
.
Catch Buke & Gase live and you won't be sorry:
1/30 2013 New York, NY, Bowery Ballroom *
1/31 2013 Boston, MA, Brighton Music Hall
2/1 2013 Philadelphia, PA, Johnny Brenda's
2/2 2013 Washington, DC, DC 9
2/4 2013 Montreal, QC, Il Motore
2/5 2013 Toronto, ON, The Drake
2/6 2013 Detroit, MI, Pike Room
2/7 2013 Cleveland, OH, Beachland Tavern
2/8 2013 Chicago, IL, Lincoln Hall
2/9 2013 Minneapolis, MN, 7th Street Entry
2/11 2013 Denver, CO, Larimer Lounge
2/12 2013 Salt Lake City, UT, Kilby Court
2/14 2013 Vancouver, BC, Media Club
2/15 2013 Seattle, WA, Barboza
2/16 2013 Portland, OR, Doug Fir Lounge
2/18 2013 San Francisco, CA, Café Du Nord
2/19 2013 Los Angeles, CA, The Echo
2/20 2013 San Diego, CA, The Casbah
above dates with AHLEUCHATISTAS support
* w/ STATS
Want the latest news from IFC? Like us on Facebook and follow us on Twitter @ifctv.