"Evil Dead" now opens a week earlier on April 5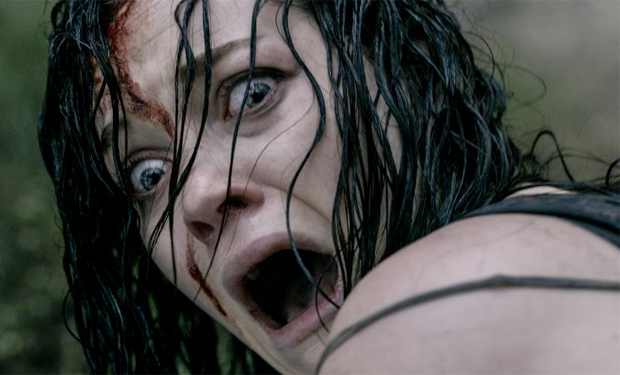 Posted by Terri Schwartz on
Evil will be rising a week sooner than originally planned. Producer Bruce Campbell announced over Twitter that "Evil Dead" will now be coming out one week before its initial release date, April 12.
"The world cannot wait. The Evil Dead remake launches one week earlier! 4/5/13. You demanded it – you got it!" he tweeted.
"Evil Dead" was originally slated to be released opposite "Oblivion" and "Scary Movie 5," but it now will be facing off against "Jurassic Park 3D" and Shane Carruth's follow-up to "Primer," "Upstream Color." As much as we're excited for both of those projects, neither of them really pose any sort of threat to "Evil Dead," especially considering the buzz that has been built around it.
IFC recently caught up with Alvarez and producer Bruce Campbell to talk about the new movie. Campbell described the "Evil Dead" remake as putting on "a nice, comfortable leather shoe," because it's going to be both familiar and new for fans of the original.
"It's a different story, but the same mythology," Alvarez said. "The way it is for me, it's very mythological, and it's about women driving men insane. Usually in horror, it's the other way around — it's a girl running from some dude with an axe chasing her. 'Evil Dead' is one of the few where it's completely the other way around, where the guys are freaking out and the girl is driving them crazy, because it's the girl that turns first. I like the idea of women torturing men, psychologically, physically. That's what we craved, and that's one of the main ideas you'll see in the movie."
The official synopsis for "Evil Dead" reads, "In the much anticipated remake of the 1981 cult-hit horror film, five twenty-something friends become holed up in a remote cabin. When they discover a Book of the Dead, they unwittingly summon up dormant demons living in the nearby woods, which possess the youngsters in succession until only one is left intact to fight for survival."
Do you think that "Evil Dead's" earlier release date is a good thing? Tell us in the comments section below or on Facebook and Twitter.