"Evil Dead" gets NC-17 rating – Now being cut for R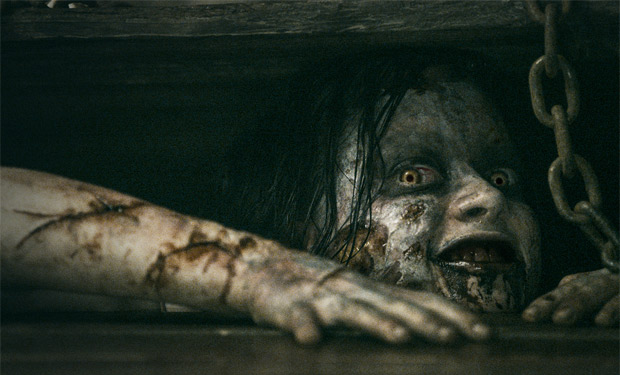 Posted by Terri Schwartz on
"Evil Dead" is about to go under the knife. The film got its first rating back from the MPAA, and organization is making it go more green band trailer and less insanely gory Red-band trailer.
It turns out the MPAA gave "Evil Dead" an NC-17 rating, which isn't too surprising considering all of the craziness that was included in the first red-band trailer. Director Fede Alvarez revealed the news himself on Twitter, and said that they're now working on bringing the film down a rating in time for its April 12 release date.
"Was proud of scoring a NC17 when submitted!" he tweeted. "But we had to cut stuff out to get an R and get the film into theaters."
Before you get too concerned, keep in mind that this likely means that a director's cut NC-17 Blu-ray release is in "Evil Dead's" future. Alvarez has lovingly crafted his take on "Evil Dead," and it seems highly doubtful that he'll never show his initial cut the light of day.
IFC recently caught up with Alvarez and producer Bruce Campbell to talk about the new movie. Campbell described the "Evil Dead" remake as putting on "a nice, comfortable leather shoe," because it's going to be both familiar and new for fans of the original.
"It's a different story, but the same mythology," Alvarez said. "The way it is for me, it's very mythological, and it's about women driving men insane. Usually in horror, it's the other way around — it's a girl running from some dude with an axe chasing her. 'Evil Dead' is one of the few where it's completely the other way around, where the guys are freaking out and the girl is driving them crazy, because it's the girl that turns first. I like the idea of women torturing men, psychologically, physically. That's what we craved, and that's one of the main ideas you'll see in the movie."
What do you think of the fact "Evil Dead's" initial cut was rated NC-17? Is that a good or bad sign? Tell us in the comments section below or on Facebook and Twitter.