"Evil Dead" green band trailer: Less gory, just as scary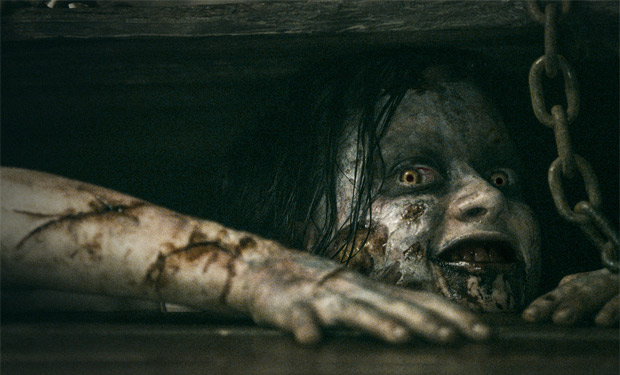 Posted by Terri Schwartz on
Does "Evil Dead" need its gore to still be the most terrifying film you've ever seen? No, according to the new green band trailer for the film.
There might not be any tongue cutting or bloody makeout scenes, but the scares in the new "Evil Dead" trailer are still just as terrifying. Prepare for lots of blood, explosions and horrifying demon faces, as well as Jane Levy turning into the most badass horror leading lady around. Just don't forget that all the NSFW stuff is there too, because there won't be a "green band" version of the movie hitting theaters.
IFC recently caught up with director Fede Alvarez and producer Bruce Campbell to talk about the new movie. Campbell described the "Evil Dead" remake as putting on "a nice, comfortable leather shoe," because it's going to be both familiar and new for fans of the original.
"It's a different story, but the same mythology," Alvarez said. "The way it is for me, it's very mythological, and it's about women driving men insane. Usually in horror, it's the other way around — it's a girl running from some dude with an axe chasing her. 'Evil Dead' is one of the few where it's completely the other way around, where the guys are freaking out and the girl is driving them crazy, because it's the girl that turns first. I like the idea of women torturing men, psychologically, physically. That's what we craved, and that's one of the main ideas you'll see in the movie."
"Evil Dead" hits theaters on April 12.
What did you think of the green band trailer? Tell us in the comments section or on Facebook and Twitter.