"Evil Dead": The director and cast discuss the reinvention of a horror classic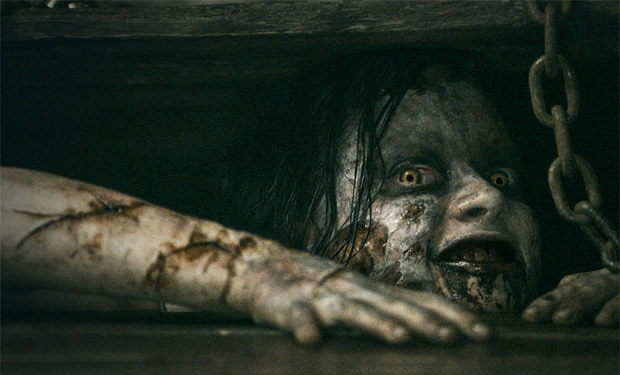 Posted by Jennifer Vineyard on
Take the first letters of all the character names in the new "Evil Dead" — David, Eric, Mia, Olivia, and Natalie — and it spells out "demon." That's just one of the many Easter eggs that the reboot of the franchise has to offer, according to director Fede Alvarez and producer Bruce Campbell (Ash!).
"You're going to put on a nice, comfortable leather shoe here," Campbell said. "It's going to feel real familiar."
Well, other than the gender reversal. The star of the new version, due out April 12, 2013, is Jane Levy, of the TV sitcom "Suburgatory" and the recent Halloween horror-lite film "Fun Size" ("That's for kids," she says). Campbell calls Levy (who plays Mia) "the new Ash." "I hope she gets considered with the same respect and consideration that that idiot Ash does," he said, noting that the gender switch allows her to carry on in his tradition without "some unnatural burden." Also, he said, Sam Raimi's idea behind the original "Evil Dead" — back when it was a short film shot on Super 8 called "Within the Woods" — was about a female protagonist. Alvarez said his treatment is a return to form.
"It's a different story, but the same mythology," Alvarez said. "The way it is for me, it's very mythological, and it's about women driving men insane. Usually in horror, it's the other way around — it's a girl running from some dude with an axe chasing her. 'Evil Dead' is one of the few where it's completely the other way around, where the guys are freaking out and the girl is driving them crazy, because it's the girl that turns first. I like the idea of women torturing men, psychologically, physically. That's what we craved, and that's one of the main ideas you'll see in the movie."
Alvarez co-wrote the reboot with his friend Rodo Sayagues, and then they brought in Diablo Cody ("Juno," "Jennifer's Body") to punch up the dialogue and give it a female perspective. "As middle-aged men, we really don't know how young people talk," Campbell joked. "And she won a fucking Academy Award." The story this time starts with the concept that Mia goes to her family cabin with her friends to try to kick a heroin habit. "You scream and get it out, and it's a couple of bad days," Campbell said. "But then the evil is unleashed."
Knowing that not only would the film itself be scary, but making it could be scary, too, Campbell took a "fatherly" approach to the young actors, "letting them know what they were getting into," he said. "I was like, 'Don't party, because you're going to wear out. It's going to be a long haul.' Poor fuckers!"
"Bruce tried to scare me away," Levy said. "He wanted to make sure I was up for the job, so at the audition he was like, 'Do you know what it feels like to be buried alive? Do you know what it feels like to have tubes stuck down your throat to projectile vomit?'"
Luckily for Levy, she passed Campbell's test. He claims that the film stands with the rest of the franchise, and anticipates double bills to show the original and the reboot at midnight screenings "for decades." "I think they're a great companion piece," he said. "I know a lot of people were pissed when they heard about the remake, and I will be ready to accept everyone's apology after you see it."
What are you looking forward to most about "Evil Dead"? Tell us in the comments section below or on Facebook and Twitter.