Emma Stone considering Guillermo del Toro haunted house movie "Crimson Peak"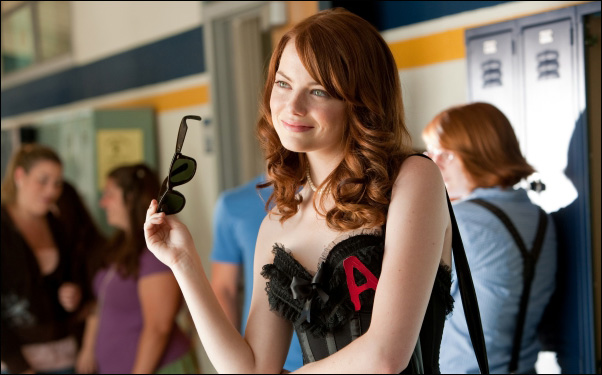 Posted by Terri Schwartz on
Guillermo del Toro might not be making his dream project "The Haunted Mansion," but he is making something similar. The "Pacific Rim" director is prepping a haunted house movie called "Crimson Peak" as his next project, and he's got an exciting actress interested in coming on board.
Variety is reporting that Emma Stone is in talks to take a role in the movie. Like most del Toro projects, plot details are under wraps, but the trade does say that Stone is very likely to sign on board. It's supposed to start shooting in February 2014.
Though no official plot description has been released, del Toro has told Deadline a bit about the film. He described it as "a very set-oriented, classical but at the same time modern take on the ghost story. It will allow me to play with the conventions of the genre I know and love, and at the same time subvert the old rules."
"To me that is Robert Wise's 'The Haunting,' which was a big movie, beautifully directed, with the house built magnificently. And the other grand daddy is Jack Clayton's 'The Innocents.' I've always tried to make big-sized horror movies like the ones I grew up watching," del Toro said. "Films like 'The Omen,' 'The Exorcist' and 'The Shining,' the latter of which is another Mount Everest of the haunted house movie. I loved the way that Kubrick had such control over the big sets he used, and how much big production value there was. I think people are getting used to horror subjects done as found footage or B-value budgets. I wanted this to feel like a throwback."
Do you think Stone is a good fit for a movie like "Crimson Peak"? Tell us in the comments section below or on Facebook and Twitter.