Coen brothers' latest, "Inside Llewyn Davis," gets a trailer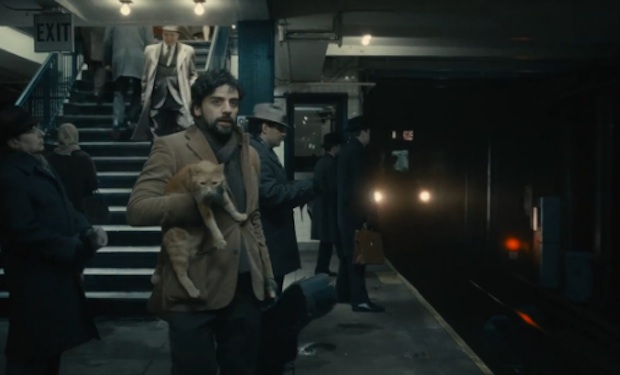 Posted by Terri Schwartz on
It's been a little over two years since the Coen brothers released "True Grit," but their next film, "Inside Llewyn," looks like it's worth the wait. The first trailer for the movie has debuted, and the "No Country For Old Men" directors' take on the New York City folk scene is exactly what we were hoping it would be.
Oscar Isaac stars as the title character, a folk singer who we see struggling to make ends meet. He seems to have had a relationship — and potentially a child — with Carey Mulligan's character, who gets all the best lines in the trailer. Also making appearances are John Goodman and, briefly, Justin Timberlake, the latter who is a rival folk singer married to Mulligan.
We would have thought that Isaac and Mulligan's onscreen characters would have learned their lesson after trying to make a marriage work in "Drive," but we're excited to see the actors reunite onscreen in "Inside Llewyn Davis." It's nice to see Isaac get a chance in the spotlight after being relegated to mostly secondary roles, and having a chance to shine in a Coen brothers movie is something every actor should strive for.
"Inside Llewyn Davis" is loosely based on folk singer Dave van Ronk and Tom Paxton who were part of the Greenwich Village music scene in the 1960s. The film is looking for domestic distribution, and doesn't yet have a release date.
What did you think of the trailer? Tell us in the comments section below or on Facebook and Twitter.