"Catching Fire" first photo introduces Sam Claflin as Finnick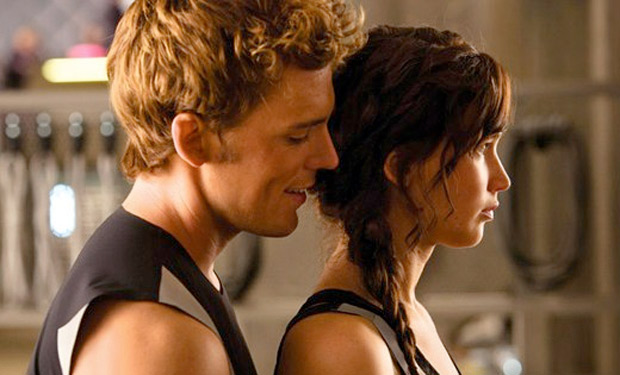 Posted by Terri Schwartz on
The first official photo from "The Hunger Games: Catching Fire" has finally arrived.
Entertainment Weekly has the first look, which shows Jennifer Lawrence's Katniss Everdeen and Sam Claflin's Finnick Odair. This is the first fans have seen of Finnick, who joins the story as a competitor against Katniss in the upcoming sequel. He is particularly memorable in "Catching Fire" because he has a scene where he walks up to Katniss nearly in the nude.
"[Filming that was] the scariest moment of my life," Claflin said. "I'm on Twitter and so many people have been like 'Don't mess this up, or we will kill you.'"
In addition, EW's cover photo has a better, albeit stylized, look at Finnick and Katniss. Both are equipped with their weapon of choice, and decked out in the new Hunger Games uniforms. The caption for the cover story is "Katniss in Finnick Go to War," which is fitting considering the subject matter in "Catching Fire."
"Catching Fire" brings back stars Lawrence, Josh Hutcherson, Liam Hemsworth, Woody Harrelson, Elizabeth Banks, Donald Sutherland and Willow Shields. It also has a whole new set of actors coming on board as well. As a quick recap, here's everyone new who's been cast in "Catching Fire" so far: Philip Seymour Hoffman as Plutarch Heavensbee, Jena Malone as Joahanna Mason, Amanda Plummer as Wiress, Lynn Cohen as Mags, Meta Golding as Enobaria, Bruno Gunn as Brutus, Alan Ritchson as Gloss, Jeffrey Wright as Beetee and Patrick St. Esprit as Romulus Thread. The movie comes out on November 21.
What do you think of the first look at Katniss and Finnick? Tell us in the comments section below or on Facebook and Twitter.