"Carrie": The cast and director talk blood, telekinesis and growing up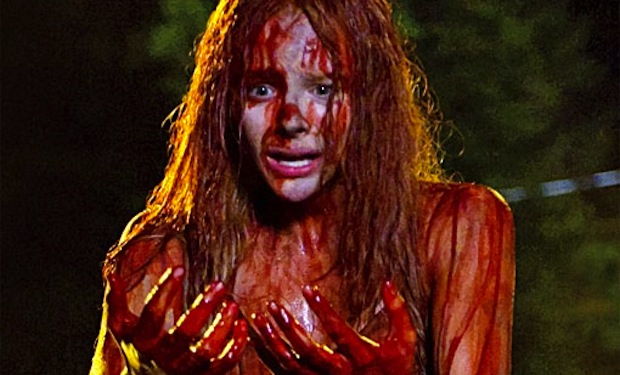 Posted by Jennifer Vineyard on
"Carrie" will be more than just a prom gone horribly, horribly wrong, promises its stars and filmmakers. Kimberly Peirce's adaptation of the Stephen King novel –recently pushed back to October 18 — will encompass more from the book than the Brian De Palma version — more destruction of the whole town, more telekinesis, and of course, more blood.
Peirce estimated that they used approximately 1000 gallons of fake blood during production. "We had so many different types of blood!" enthused Chloë Grace Moretz. "Each day was something else: the wet blood, the fire blood, the dry blood. The blood became part of who you are, and I just got used to going home every night covered in blood."
The blood starts flowing, as you might recall, when Carrie gets her first menstrual cycle, but because she's grown up with a religious fanatic for a mother, she thinks it means her damnation. Her gym teacher, Miss Desjardin (who is played by Judy Greer), sets her straight. "Carrie realizes, 'Oh my God, I can be like this woman, who is secure and doesn't think she's going to hell just because she got her period,'" Moretz said. "And then she goes home and tries to tell her mother that it's a natural progression. 'I know what I've been told, but…'"
Margaret White, however, doesn't want to hear it. This is a woman, as Julianne Moore pointed out, who started off in one religious sect, and when that wasn't strict enough, "peeled off and formed her own church, which her husband." Isolated from society, she didn't understand her own period, which she thought was brought on by sexual sin, let alone her pregnancy — "she thought she had cancer, and delivered the baby by herself," Moore said.
"All of this was so startling to learn and understand, so upsetting, and so rich in terms of characterization," Moore said. "It helps you understand how important her relationship to this child is, how completely wrapped up in her she is. So the key is her isolation, and her psychosis, because she's maybe had several psychotic breaks, and the moment she senses Carrie is moving away from her, she wants to 'protect' her. She only sees danger out there for Carrie."
Moretz said Carrie has her first awakening when she realizes that her mother's teachings might be wrong, and she has her second awakening when she realizes she has the power to move things with her mind.
"If you look at it from a telekinetic point of view, I don't think that was used as much in the first film as in our film," Moretz said. "Other people might be like, 'Oh, that's her downfall,' or you can argue with it, because it's not logical — 'Huh, I just moved you' — right? But here it's like, 'Wow, this might be who I am.' It's more of a sense of her becoming something. When she's overly happy, it comes out. When she's angry, it comes out. It takes her strongest emotion and multiplies it by a hundred, and her whole body tenses up and things move with her. When she's alone and in her own mind, she can thrive, and you smile."
Well, until she starts killing people with her mind, that is. Besides blowing up at the prom (just because of a little pig's blood prank!) and then committing matricide, Carrie sets her entire neighborhood on fire, destroying the fire hydrants as well so no one can put out the fires. "You can't do that in a PG-13 universe," producer Kevin Misher said. "I think the only tone that can do this justice is R."
Misher also said "the thing to remember" about "Carrie" is that it's a metaphor for a young girl's coming-of-age, calling it "almost like the first 'Twilight' or 'Hunger Games.'" "It was a phenomenon of a book about teens and processing angst in a supernatural way," he said.
"You've got a girl who's trying to grow up, and a mother who's trying to keep her from growing up," Peirce said. "So beyond all the supernatural, what I found was really interesting is the journey that all girls on."
Peirce said she amplified the interactions between Carrie and the girls at school — especially Chris, who abuses Carrie the most — but also kept the interactions "completely casual" for a sense of normalcy. "In terms of modernity, the way kids communicate, with social networking, with texting, with making videos everywhere they go on their cell phones, that part is different."