"Beasts of the Southern Wild" gets theatrical re-release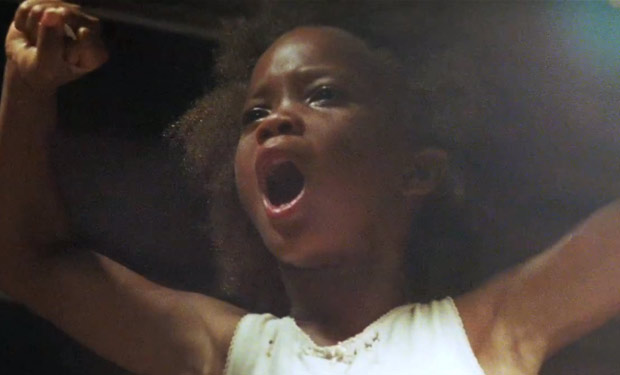 Posted by Terri Schwartz on
Missed "Beasts of the Southern Wild" when it first hit theaters? Well you're in luck, because the Oscar and Spirit Award nominated film is getting a theatrical re-release now that we're in the thick of awards season.
The film starts playing in select theaters around the country starting today. Fox Searchlight released the full list of theaters, and says that more will be announced at later dates. No word yet on how long the movie will stay in cinemas after being released last summer, but our guess is at least through the Academy Awards on February 24. Here's the theaters it's playing at now:
ATLANTA, GA
Midtown Art Cinema, Atlanta, GA
Medlock Crossing, Duluth, GA
CHARLESTON, SC
Charles Towne Sq., North Charleston, SC
Wesgate Mall Cinema 8, Spartanburg, SC
KNOXVILLE, TN
Downtown West Cinema 8, Knoxville, TN
BOSTON, MA
Kendall Sq., Cambridge, MA
Embassy 6, Waltham, MA
Regal Hooksett, Hookset, MA
BALTIMORE, MD
Charles 5 Theater, Baltimore, MA
CLEVELAND, OH
Cinemark Movies 10, North Canton, MA
Richmond Town Sq., Richmond Heights, OH
COLUMBUS, OH
Georgeville Sq., Columbis, OH
PITTSBURG, PA
Regent Sq., Edgewood, PA
WASHINGTON, DC
Arlington Cinema & Draft, Arlington, VA
E-Street Cinema, Washginton, DC
AFI Silver Springs, Silver Springs, MD
DETROIT, MI
Main Art, Royal Oak, MI
Movies 16, Warren, MI
GRAND RAPIDS, MI
Celebration Woodland Mall, Grand Rapids, MI
GAINESVILLE, FL
Gainesville Stadium 14, Gainesville, FL
JACKSONVILLE, FL
Island Cinema 7, St. Simons Island, GA
TAMPA/ST. PETERSBURG, FL
Parkway Cinema, Sarasota, FL
PANAMA CITY, FL
Regency Stadium 11, Panama City, FL
MIAMI/FT. LAUDERDALE, FL
The Last Picture Show, Tamarac, FL
NEW YORK, NY
Lincoln Plaza 6, New York, NY
Sunshine Cinemas 5, New York, NY
AMC Jersery Gardens, Elizabeth, NJ
Clairidge 6, Montclair, NJ
Garden CInema 4, Norwalk, CT
Jacob Burns Film Center, Pleasantville, NJ
BUFFALO, NY
McKinley 6 Theatres, Blasdell, NY
PHILADELPHIA, PA
Ritz, Philadelphia, PA
CHARLOTTESVILLE, VA
Vinegar Hill, Charlottesville, VA
RICHMOND, VA
Commonwealth 20, Richmond, VA
CHICAGO, IL
Century Centre Cinema, Chicago, IL
Lincolnshire 21, Lincolnshire, IL
Cantera Stadium 17, Warrenville, IL
DALLAS/FT. WORTH, TX
Magnolia Cinema 5, Dallas, TX
HOUSTON, TX
River Oaks 3, Houston, TX
DES MOINES, IA
Fleur Cafe, Des Moines, IA
LINCOLN, NE
Mary Riepma Ross Arts Center, Lincoln, NE
MINNEAPOLIS, MN
Edina 4, Edina, MN
OMAHA, NE
Westwood Cinemas, Omaha, DE
SIOUX FALLS, SD
Capital Theater, Aberdeen, SD
NASHVILLE, TN
Hollywood Stadium 27, Nashville, TN
SPRINGFIELD, MO
Moxie Cinema, Springfield, MO
ST. LOUIS, MO
Tivoli, St. Louis, MO
SAN DIEGO, CA
Landmark, La Jolla, CA
Hillcrest 5, San Diego, CA
LOS ANGELES, CA
Los Feliz 3, Los Angeles, CA
The Landmark 12, Los Angeles, CA
Rancho Niguel, Laguna Niguel, CA
Westlake Village Twin Art Center, Westlake Village, CA
DENVER, CO
Mayan, Denver, CO
Lyric Twin Cinema Cafe, Ft. Collins, CO
West Village Stadium, Lakewood, CO
LAS VEGAS, NV
Village Square Cinema 18, Las Vegas, NV
SAN FRANCISCO/OAKLAND, CA
Rialto's 3 Elmwood, Berekely, CA
Rialto's 9, Sebastopol, CA
Aquarius Twin Art Cinema, Palo Alto, CA
Embarcadero, San Francisco, CA
Stonestown Twin Art Cinema, San Francisco, CA
Bluelight 5 Cinemas, Cupertino, CA
SACRAMENTO, CA
Tower Art 3 Cinema, Sacramento, CA
PORTLAND, OR
Salem Art 3 Cinema, Salem, OR
SEATTLE/TACOMA, WA
Sundance's Seattle 10 Cinema, Seattle, WA
Meridian 16, Seattle, WA
Will you go see "Beasts of the Southern Wild"? What was your favorite movie of 2012? Tell us in the comments section below or on Facebook and Twitter.