"Arrested Development" season four episode titles possibly revealed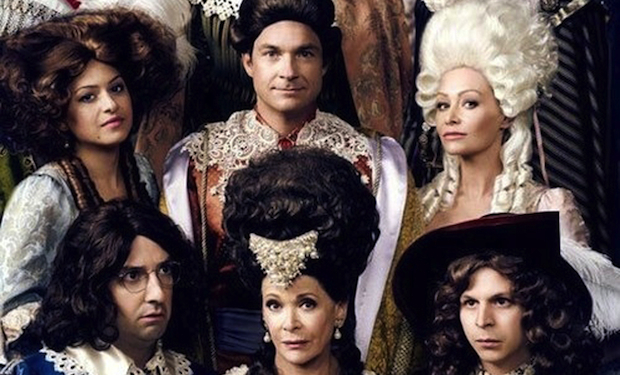 Posted by Terri Schwartz on
The rumored May 4 Netflix airdate for "Arrested Development" has since been disproven, but what about the alleged episode list? If you ask us, those could be the fourth season's actual episode titles.
ONTD! posted a still that the Livejournal community claimed was from Fox's press and publicity site. The information is no longer on the site and Netflix claims the airdates are wrong (or airdate, since all the episodes are supposed to air on the website at the same time), but there was no mention of the episode titles being correct or incorrect.
Considering we already know the first episode is called "Michael," it makes sense that the next 13 episode titles (again, still unconfirmed that there are a total of 14 episodes in season four) are as posted. Here they are, according to ONTD!
– "Michael 1"
– "Michael 2"
– "George Sr. 1"
– "George Sr. 2"
– "Lindsay 1"
– "Lindsay 2"
– "Tobias"
– "Gob"
– "Maeby"
– "Lucille"
– "Buster"
– "George Michael 1"
– "George Michael 2"
– "Gob 2"
What do you think: Real or fake? We're going to have to wait until Netflix confirms or denies them to know for sure, but for now they seem real. Note that (according to this) none of the episodes focus on any secondary characters, but at least we do know many will be making an appearance.
Plot details about season four have been sparse, but we have heard that each episode is supposed to focus on an individual character. There are plenty of supporting characters returning in addition to the original cast, so maybe they will get some episodes focused around them too. Mae Whitman, Andy Richter, Liza Minelli, Judy Greer, Ron Howard, Scott Baio and Henry Winkler will all be back, and newcomers Isla Fisher, Terry Crews, John Slattery, Conan O'Brien and the cast of "Workaholics" will join them.
What do you make of these alleged episode titles? Tell us in the comments section below or on Facebook and Twitter.