"Arrested Development" gets a release month and two new photos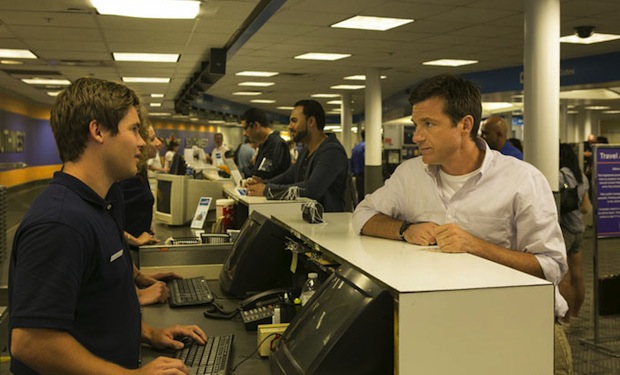 Posted by Terri Schwartz on
In just four short months, the fourth season of "Arrested Development" will finally arrive on our virtual doorsteps. Netflix announced at the TCAs winter tour that all 14 episodes — yes, officially 14 episodes — will arrive at once online at some point in May.
To celebrate the occasion, creator Mitch Hurwitz screened a deleted scene from season four that showed Lucille Bluth using Buster to hide the fact she was smoking. Because Jessica Walters' Lucille isn't allowed to smoke cigarettes in this scene, she tries to hide the fact she is doing it anyways by blowing the smoke into Buster's mouth as he blows it outside. This apparently happened over and over again until both Walters and Tony Hale broke down laughing.
The reason why Hurwitz showed a deleted scene from season four instead of an actual one is because he doesn't want the surprise to be ruined. However, even he knows that all the hype will go away quickly when Netflix debuts the entire season on one day.
"There are going to be surprises that will be ruined by spoilers, but that would have happened anyway," Hurwitz reportedly said. "So it's happening maybe on one day for hard-core fans, but the stuff just now exists. It just lives out there."
Since the rest of us weren't present when the deleted clip was aired, we have been gifted something better: Two new images from season four. The first shows Adam DeVine as a Southwest Airlines employee serving Jason Bateman's Michael Bluth. The second shows Michael Cera's George Michael driving around the Bluth Company stair car. Yes, we just blue ourselves too. You can see both photos at The Playlist.
In addition to the original cast, returning supporting actors Mae Whitman, Andy Richter, Liza Minelli, Judy Greer, Ron Howard, Scott Baio and Henry Winkler will all be back, and newcomers Isla Fisher, Terry Crews, John Slattery, Conan O'Brien and the cast of "Workaholics" will join "Arrested Development" in season four.
What have you missed the most about "Arrested Development"? Tell us in the comments section below or on Facebook and Twitter.