Netflix 'blues' itself with new "Arrested Development" ad campaign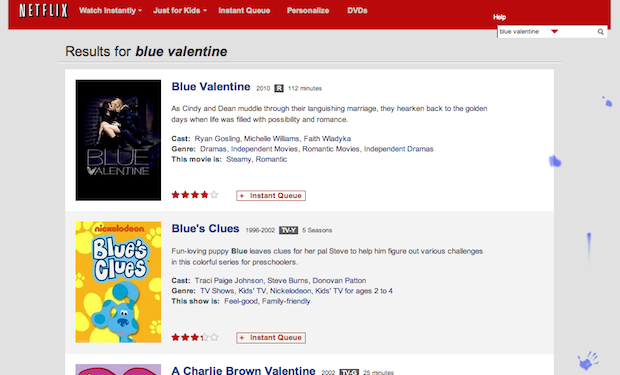 Posted by Terri Schwartz on
"Arrested Development" is coming back to us in May, and Netflix wants you to get excited. The company certainly is; in fact, Netflix flat out blue itself all over its search pages.
Confused? Go search for any movie with the word "blue" in the title, and you'll find the telltale signs of one Tobias Funke when you get your results. As you can see in the above image, Tobias is back, and it seems like he still hasn't given up his aspirations to join the Blue Man Group. Or maybe he just had a lot of leftover blue paint.
It's clear that Netflix knows what it's got with "Arrested Development" and isn't afraid to have a little fun with it. The Bluth Company (via /Film) pointed out the viral marketing, and also noticed that when you click on Tobias' handprint, Netflix redirects to the season two episode "The One Where Michael Leaves." If you recall, that's the episode where Michael Bluth notices blue handprints all over the model home, and then realizes at the end that it's because Tobias had painted himself blue.
All of "Arrested Development's" 14 season four episodes will premiere on Netflix in May. In addition to the central characters, the new season includes returning supporting actors Mae Whitman, Andy Richter, Liza Minelli, Judy Greer, Ron Howard, Scott Baio and Henry Winkler will all be back, and newcomers Isla Fisher, Terry Crews, John Slattery, Conan O'Brien and the cast of "Workaholics."
What do you think of Netflix's new "Arrested Development" campaign? Tell us in the comments section below or on Facebook and Twitter.