Hey everyone. Adopt-A-Comic Chris Gethard here. My quest to land a role in the Alf movie continues. So far, I've made zero progress. I think this has to do mostly with the fact that you can't just ask to be in a movie and get in a movie. That's the exact opposite of how the entertainment industry works. But I'm a dreamer and I like to go big and I'm hoping if I put enough positive energy out there into the world it will loop around and I'll get to share the big screen with the pride of Melmac, Gordon Shumway himself.
Another big road block to me getting in the Alf movie is that a script for the Alf movie doesn't yet exist. It's hard to cast a movie when a script for that movie is not a thing. I decided that I would do my part to try and jump start the brainstorming process so that maybe the fine folks at Sony Animation would feel like there was some momentum and they could get to work on sending this Alf project into production.
I come from an improv background, so I'm often at my best brainstorming along with other people. I called in one of the biggest guns I know to help me out on this one. I came up with Bobby Moynihan at the Upright Citizens Brigade Theater in New York City. You know him now from "Saturday Night Live," but I know him from our days doing very dumb improv shows in New York City, driving all over the United States doing college gigs, and writing 1,000 bits together. That's not a joke, he and I wrote and performed a show called 1,000 Bits. I can't even explain what it was, but I can tell you that bit #3 was "Gay Squirrel".
Anyway, I hope you enjoy this video. And I hope you enjoy my appearance in the upcoming Alf movie even more. I believe in this dream and I believe that with your help this will one day happen.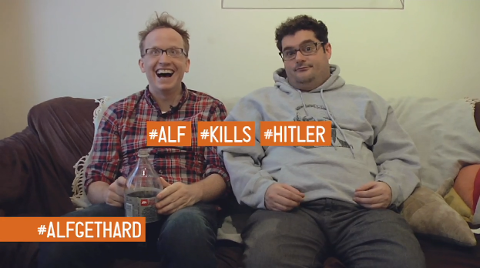 video player loading
.
.
.