What to watch on IFC tonight: Winter in Portlandia, airing at 10:30/9:30c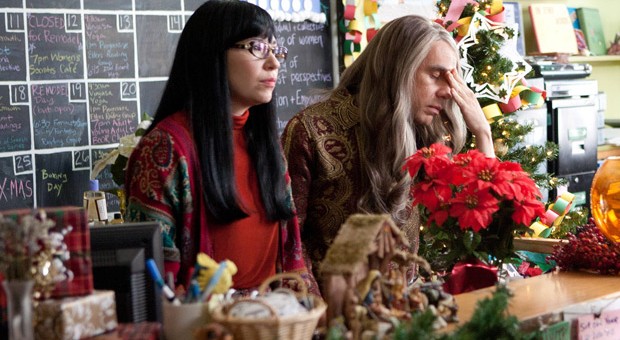 Posted by Melissa Locker on
Sorry Shakespeare, but this is not the winter of our discontent. How could it be when Portlandia returns tonight at 10:30/9:30c right after a new episode of Whisker Wars. So suck it, Shakespeare, because tonight we are buttoning up our coats and heading to "Winter in Portlandia," where we will be celebrating Christmas — er, a non-denominational, optionally religious winter holiday celebration timed around the solstice.
Tune in tonight to see Peter and Nance struggle to keep off winter weight by cutting pasta from their diets, while Bryce and Lisa are offering a winter vacation at their newly opened Outlet Hotel. Gahvin Quin is planning on spending the season indoors building an elaborate recording studio in his basement. And we welcome to Portlandia a couple who is trying to keep their food cart, Stu's Stews, in business during the cold weather. And, of course, Candace's son, Robert (played by SNL's Bobby Moynihan), stops by Women and Women First bookstore for the holidays. Let's watch the clip again, because who doesn't like an excuse to repeat the phrase "vagina pillows" over and over again?
Watch the clip and then tune in tonight to watch Winter in Portlandia at 10:30/9:30c:
video player loading
.
.
.
Want the latest news from Portlandia? Like them on Facebook and follow them on Twitter@ifcPortlandia and use the hashtag #portlandia.
Portlandia returns to IFC with Winter in Portlandia on tonight at 10:30/9:30c