What to watch on IFC tonight: 12.12.12 The Concert for Sandy Relief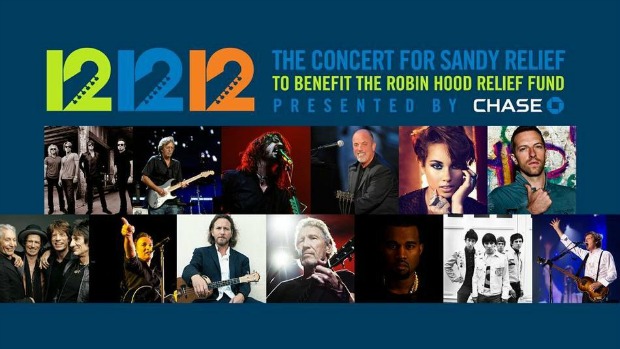 Posted by Melissa Locker on
Tonight at 7:30/6:30c, we will be joining networks, radio stations, movie theaters and websites from around the globe in airing the 12.12.12 concert for Sandy Relief. The 12.12.12 Concert, which is being held tonight in New York City's Madison Square Garden, will raise money for victims of the superstorm Hurricane Sandy, which devastated New York City and New Jersey, with thousands of homes flooded, millions who lost power and more than one hundred people dead. As the survivors work to rebuild, some of the largest names in the music industry are coming together for a mega-fundraiser.
The concert will feature Bruce Springsteen, the Rolling Stones, the Who, Paul McCartney, Bon Jovi, Eric Clapton, Dave Grohl, Billy Joel, Alicia Keys, Chris Martin, Roger Waters, Kanye West, and Eddie Vedder, to name a few of the big name stars banding together for a one-night event benefitting victims of Hurricane Sandy through the Robin Hood Relief Fund.
Other celebrities who will participate in the concert and help raise money through the show's telethon include: Billy Crystal, Leonardo DiCaprio, Susan Sarandon, Jake Gyllenhaal, Adam Sandler, Chris Rock, Sean Combs, Jimmy Fallon, Seth Myers, Quentin Tarantino, Brian Williams, Jon Stewart, Steve Buscemi and Chelsea Clinton.
Through joint efforts of television networks, movie theaters, several live streams and social media integrations (including Facebook, Instagram, and Twitter), the charity concert will reach an unprecedented amount of people. In fact, it's estimated that more than 2 billion people around the globe will be able to view and listen to the concert. "This has become a global event," Zena Burns, VP of digital programming platforms for Clear Channel Media and Entertainment, told Mashable. "Between TV, radio and online streaming on YouTube, Hulu, AOL, iHeartRadio and Time Inc brands, the concert will reach nearly 2 billion homes worldwide as the most widely distributed music event in history." You can watch the 12.12.12 Concert for Sandy Relief on IFC tonight at 7:30/6:30C
Want the latest news from IFC? Like us on Facebook and follow us on Twitter @ifctv.