What to watch on IFC: "Domino" tonight at 10:15 p.m. ET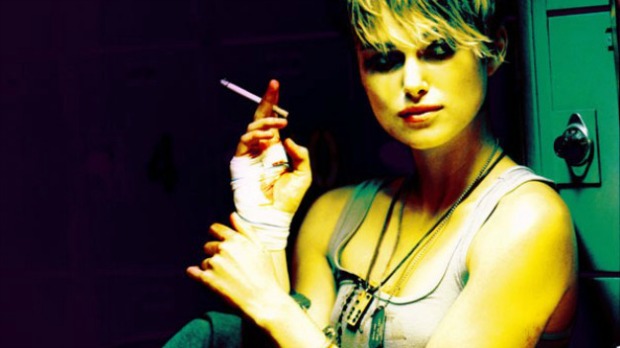 Posted by Melissa Locker on
Director Tony Scott (best known for "Top Gun" and "True Romance") always had a knack for the sensational and in "Domino" he cranks it all the way up. The fractured, feverish visual style he mastered in 2004′s "Man on Fire" breathes a frenetic energy into the true-crime tale of Domino Harvey, played by Keira Knightley. Domino was one of those girls who had it all and then threw it away to become a bounty hunter. Okay, so there aren't that many girls like that, but that's why they made a movie out of her life and not your boring one. Domino was the daughter of actor Laurence Harvey and model model Pauline Stone, who later got married to Hard Rock Cafe co-founder Peter Morton and thus really rich. Domino didn't really have to work, but she dabbled as a Ford model until she realized her true calling: Being a bounty hunter.
In the movie version, Domino becomes an even crazier collage than her real life with Richard Kelly ("Donnie Darko") drafting the screenplay. In the pulp version of her life, Domino teams up with her seedy yet charismatic colleagues, Ed Moseby (Mickey Rourke) and Choco (Edgar Ramirez), and soon became entangled in a botched robbery planned by their bail bondsman employer, Claremont Williams III (Delroy Lindo). It's a mess made een more unsightly and more difficult to clean up because they have a reality TV crew watching their every move. Making the movie even more fun, the reality TV crew is played by two "Beverly Hills 90210″ alums Ian Ziering (a.k.a Steve) and Brian Austin Green (David Silver). The real Domino Harvey died at the age of 35 from an accidental drug overdose just a few months before the film's release
Watch the trailer and you'll know that you want to tune in tonight at 10:15 p.m. ET. Heck, you'll want to tune in at 8p.m. ET when we show John Carpenter's "Escape From L.A." starring Kurt Russell:
Want the latest news from IFC? Like us on Facebook and follow us on Twitter @ifctv.
"Domino" airs tonight at 10:15 p.m. ET/9:15p.m. CT and Thursday, Dec. 27 at 10:15 p.m. ET/9:15 p.m. CT