What to watch on IFC: Tom Hanks stars in "Bachelor Party" at 9:45/8:45c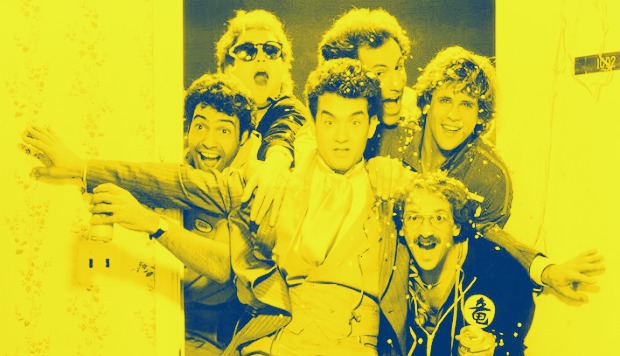 Posted by Melissa Locker on
Before there was "The Hangover" there was "Bachelor Party." You see, before Tom Hanks was a very serious actor, he was a really funny one. When Hanks started out the Oscar winning star of movies like "Cloud Atlas," "The Davinci Code," "Forrest Gump" and "Philadelphia," the producer of films like "Cast Away," "The Ant Bully," and "My Big Fat Greek Wedding" and (* cough * boring * cough* ) mini-series like "John Adams", and a voice over actor for "Toy Story," and director ("Larry Crowne" "Band of Brothers"), was a funny guy trying to make it big in Hollywood. Evidence #1: "Bosom Buddies." Evidence #2: "Splash" Evidence #3: "Bachelor Party," which we are airing tonight at 9:45/8:45c.
The film stars Hanks as Rick (pretty sure everyone was named Rick in the 80s) a part-time school bus driver and full-time party animal. Rick surprises his friends by deciding to settle down and proposing to his girlfriend (Tawny Kitaen, yes, that Tawny Kitaen). They have no choice but to throw him the biggest, baddest, wildest bachelor party ever. Wacky hijinks ensue.
Here's the trailer for "Bachelor Party"
But we know that all you really want to watch is Tawny Kitaen rolling around on cars (who knew that was a career choice?) so here you go:
Want the latest news from IFC? Like us on Facebook and follow us on Twitter @ifctv.
"Bachelor Party" airs tonight at 9:45 PM ET; Friday, Dec. 21 at 1:45 AM ET; Tuesday, Dec. 25 at 8:00 PM ET; Wednesday, Dec. 26 at 12:00 AM ET; Friday, Jan. 11 at 6:00 PM ET; and Sunday, Jan. 20 at 1:00 AM ET