Watch an all new episode of Total Bearding Network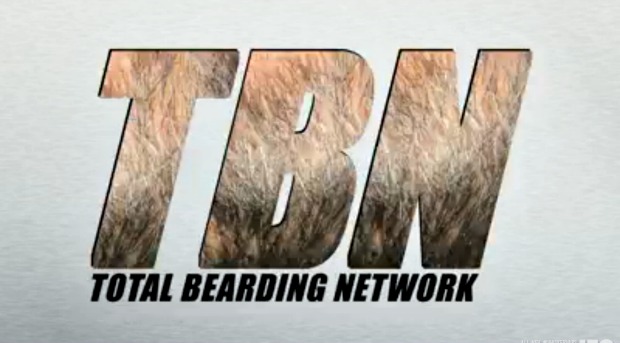 Posted by Melissa Locker on
When it comes to beards, too much is never enough. So we know that Whisker Wars isn't enough for those hankering for facial hair fueled drama. To further satiate fans of the competitive bearding world, IFC is happy to host the animated web series Total Bearding Network. Voiced by our beloved adopted comic Chris Gethard (The Chris Gethard Show, The Other Guys, This American Life) and comedian Jim Santangeli (CollegeHumor Originals, FunnyorDie.com), Total Bearding Network shines a spotlight on the world of competitive bearding in a funny animated format. "I've always dreamed of competing in the facial hair circuit but I'm only able to grow the awkward peach fuzz of a prepubescent boy," commented Gethard about his role as host of Total Bearding Network. "So I'm forced to experience the testosterone-charged, nail-biting competitions of this global sports phenomenon as a spectator."
In each episode, viewers get to see the world through the eyes of veteran former champion Ken Guntruck (Santangeli) and his facially hair-challenged co-anchor, Pete Lewis (Gethard). Written and directed by Dan Meth (CollegeHumor Original), additional webisodes of Total Bearding Network will be posted weekly online through December. Future coverage from the competitive bearding sportscasters includes an exposé on a performance-enhancing drug scandal, an inspiring interview with the first woman to compete in professional bearding and a highlight on the birthplace of bearding: Brooklyn, NY.
Watch an all new episode of Total Bearding Network right now:
video player loading
.
.
.
Want the latest news from Whisker Wars? Like them on Facebook and follow them on Twitter@whiskerwars and use the hashtag #whiskerwars.
The second season of Whisker Wars airs on IFC on Fridays at 10 pm ET/PT