Watch a new episode of the Total Bearding Network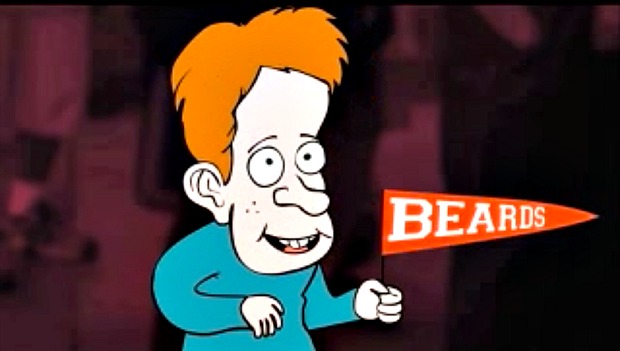 Posted by Melissa Locker on
Remember back when we were kids and beards were big, beautiful bushy things that just grew out of the faces of men? When such bearding legends as ZZ Top and Abraham Lincoln just let their facial hair flow? You'll feel sentimental for the good old days when you watch Total Bearding Network's eagle-eyed expose on the use of performance enhancing drugs in the world of competitive bearding. If you have fainted due to these allegations, we have smelling salts available for use.
As anyone knows who has watched the fierce drama unfolding during the second season of Whisker Wars (which airs Fridays at 10/9c), just because the beard battlers aren't scoring baskets or shooting arrows or making touchdowns doesn't mean they aren't fierce competitors who just might do anything to win. However one thing we know about our whisker warriors? Their beards are real …and they're fabulous.
Watch the latest installment of our animated web series Total Bearding Network and tune in to a new episode of Whisker Wars on Friday at 10/9c:
video player loading
.
.
.
Want the latest news from Whisker Wars? Like them on Facebook and follow them on Twitter@whiskerwars and use the hashtag #whiskerwars.
Whisker Wars airs on IFC on Fridays at 10 pm ET/PT