DVR Alert: Watch Mr. Show with Bob and David early tomorrow morning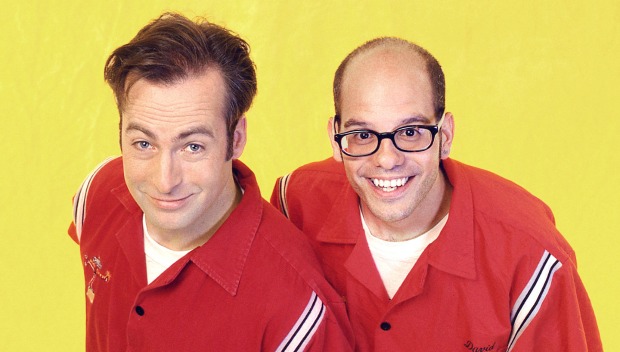 Posted by Melissa Locker on
You're going to want to dig your remote control out of the couch and track down the instructions that came with your DVR so you can record Mr. Show with Bob and David tomorrow and Saturday at 5 a.m. ET/4 a.m. CT.
If you somehow missed Mr. Show (welcome to the world, children!), it's a sketch comedy series that sprung from the mind of former Saturday Night Live writer/actor Bob Odenkirk (a.k.a. Saul on Breaking Bad) and stand up comedian/actor David Cross. Yes, David Cross of Arrested Development and The Increasingly Poor Decisions of Todd Margaret. We like him. The groundbreaking show aired on HBO from 1995 to 1998 and during that time span managed to mock pretty much everyone from Satanists to hermaphrodites to the Ku Klux Klan. The show featured a lot of fresh-faced talent who have become comedy stars in their own right, including Sarah Silverman, Paul F. Tompkins, Jack Black, Tom Kenny, Mary Lynn Rajskub, Brian Posehn, and Scott Aukerman.
Watch these sketches and then head straight to your remote control to set your DVR to record Mr. Show with Bob and Davide tomorrow and Saturday at 5 a.m. ET:
Anyone have change for a dollar?
Here's Mr. Show's take on method acting:
Here's how they give a guitar lesson:
Want the latest news from IFC? Like us on Facebook and follow us on Twitter @ifctv.