Tim Grierson on Brad Pitt, the Unpredictable Movie Star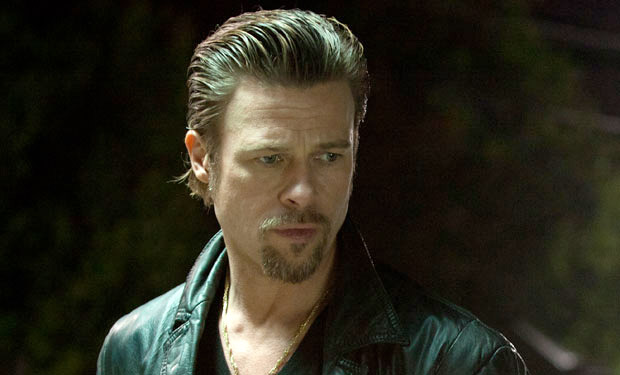 Posted by Tim Grierson on
Brad Pitt is unquestionably a movie star, but what kind is he? The lead in this past weekend's "Killing Them Softly," he doesn't have a single movie in the Top 140 of the all-time domestic box office chart, and his biggest worldwide hit, "Troy," is just outside the Top 100 of the international chart. And yet he's indisputably one of our most recognizable faces, one half of the world's biggest celebrity couple. But despite the many memorable films he's been a part of over the last 20 years, he doesn't have a "Pirates of the Caribbean" or "Men in Black" franchise that's catapulted him into the ranks of mega-blockbuster stars. (Even the "Ocean's Eleven" films don't quite count because of their ensemble nature and the fact that none of them have ever cracked $200 million. They've always been cool, hip doubles or triples rather than outright home runs.) I don't bring any of this up to knock him. In fact, I realize it's part of the reason why I like him so much. With his looks and charisma, he was probably going to be a star regardless. But how he's decided to approach his stardom has been consistently gratifying as a viewer.
Pitt will turn 49 on December 18, making him about six months younger than Johnny Depp and 18 months younger than Tom Cruise. He'd been working in television in the late '80s — landing parts on everything from "Dallas" to "Head of the Class" to "21 Jump Street" — before really coming to moviegoers' attention with 1991's "Thelma & Louise." It was a minor but crucial role as a cocky hunk who seduces Thelma and, oh yeah, steals her money. Despite not having a lot of screen time, Pitt established a persona that has presaged just about every role he's taken since, playing a handsome, carefree guy who's sharper and more calculating than he first appears. Additionally, it was a quality movie, an early sign that he (or, at least, his handlers) had the good sense to pick strong, interesting work.
The rest of the '90s saw Pitt transitioning into studio projects, but hardly ones that were always overtly commercial. He would do an "Interview With the Vampire," where he played second fiddle to Cruise, but he'd also try his hand at more thoughtful fare like "Seven Years in Tibet" and "A River Runs Through It," a drama directed by Robert Redford that inspired many comparisons between the boyishly gorgeous young actor and his equally photogenic, golden-haired director. But like Redford, Pitt didn't want to be judged just by his looks, choosing edgier thrillers like "Kalifornia," "Twelve Monkeys" and "Seven" that would showcase his darker side. (And with "Twelve Monkeys," he received his first of four Oscar nominations, for Best Supporting Actor.)
The decade culminated in perhaps the perfect amalgam of Pitt's commercial and artistic ambitions, starring in "Seven" director David Fincher's "Fight Club," still one of the nerviest, most subversive movies to ever come from a studio. Not surprisingly, the movie bombed, only to become a cult hit in subsequent years. As Tyler Durden, the loopy, dangerous mentor to Ed Norton's miserable office drone, Pitt delivered his finest performance to that point, fully comfortable as a seductive movie star but willing to play with that image to produce a character who was funny and unsettling.
This isn't to say he didn't have his missteps. His earnest turn in "Meet Joe Black" couldn't save that film, and his one-note gimmick of a performance in "Snatch" could make you worry that he was getting bored with being a star and lapsing into self-indulgence. But then he'd surprise you with something that seemed completely dashed-off and yet endlessly amusing. At least that's my take on "Ocean's Eleven," that rare instance when a lot of big-name talent — director Steven Soderbergh, stars George Clooney, Matt Damon, Julia Roberts and Pitt — all decide to make a big, silly, stylish lark and it actually turns out to be as much fun to watch as it sounds like it was to make. Pitt's Rusty isn't so much a character as he is an attitude, but that hardly mattered since the actor's essence filled in the gaps; "Ocean's Eleven" and its two sequels are Pitt at his most effortless, having a ball but letting the audience feel like they're part of the gang as well.
His career was soon going to change thanks to "Mr. & Mrs. Smith," the 2005 hit that's still his highest-grossing in the U.S. The movie is completely fine, but its real cultural impact is that it set in motion his relationship with co-star Angelina Jolie (and breakup with wife Jennifer Aniston), which became instant tabloid fodder. Since then, Pitt and Jolie have always been overshadowed a little by the whole "Brangelina" phenomenon. That's too bad since Pitt has worked his hardest to make us focus on the work instead, starring in "Babel," "The Assassination of Jesse James by the Coward Robert Ford" and "The Curious Case of Benjamin Button" (his third pairing with Fincher). "Jesse James" in particular was a real revelation: a chance for Pitt to play the quietly frightening mythic villain James, who already seems to have one foot in the grave as the movie begins. It's perhaps his greatest performance and the sort of role that's ideal for a star who knows how to exude charisma while at the same time communicating the weariness of man so famous that it's almost like his real self is vanishing. Clearly, it can be quite tempting to look at "Jesse James" as Pitt's commentary on his own celebrity.
Entering his third decade in film, he's hardly resting on his laurels. His work in "The Tree of Life" was another Pitt entirely: a larger-than-life '50s father who seemed to embody all the rugged, emotionally stunted masculinity of that generation of men. And then "Moneyball," where endless charm and even-more-endless competitiveness duked it out. In a sense, that role was an encapsulation of the Pitt we now know: immensely likable, nonchalantly commanding, soulful around the edges. And his next two movies are, as always, a demonstration of his different creative impulses. The prickly, distinctive "Killing Them Softly" finds him reuniting with his "Jesse James" writer-director, Andrew Dominik, while next year's "World War Z" is a hopeful studio blockbuster. "Killing Them Softly" will tank — it received a disastrous "F" rating from the audience polling company CinemaScore — but it hardly matters. (Pitt, playing a principled gangster, is terrific in it.) This is one of the advantages of being a star who's not really beholden to any one big franchise: He can do what he pleases, and more often than not, what he does is worth your time. I see no reason to think that will change in the near future.