"The World's End" official image debuts as filming wraps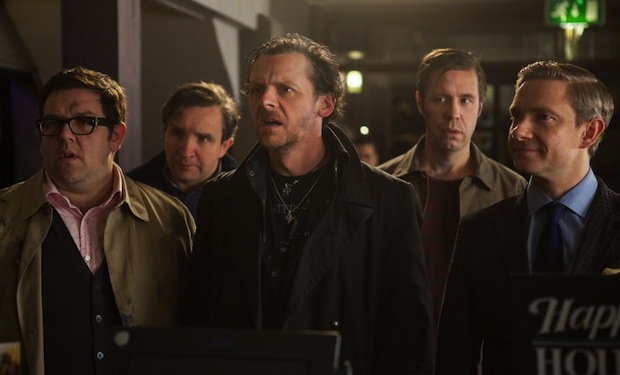 Posted by Terri Schwartz on
The apocalypse might not have happened on December 21, but at least "The World's End" did arrive. Edgar Wright fittingly wrapped his newest film on the same day of the Mayan apocalypse, and Simon Pegg tweeted the first image from the movie.
"That's a wrap. See you next year. #theworldsend" he tweeted.
In the photo, we see Pegg, Nick Frost, Martin Freeman, Eddie Marsan and Paddy Considine standing outside a pub. Judging by the look on Pegg's face, the group didn't find what they were looking for.
The poster for "The World's End" was released back in October at the same time an official synopsis debuted. Due out on October 25, 2013, "The World's End" tells the story of a group of friends going on an epic pub crawl the same night an apocalyptic event occurs. The film serves as a conclusion for Wright's "Blood and Ice Cream" trilogy, which also includes "Shaun of the Dead" and "Hot Fuzz."
Here's the movie's official synopsis:
20 years after attempting an epic pub crawl, five childhood friends reunite when one of them becomes hellbent on trying the drinking marathon again. They are convinced to stage an encore by Gary King (Simon Pegg), a 40-year-old man trapped at the cigarette end of his teens, who drags his reluctant pals to their hometown and once again attempts to reach the fabled pub – The World's End. As they attempt to reconcile the past and present, they realize the real struggle is for the future, not just theirs but humankind's. Reaching The World's End is the least of their worries.
What do you think of this first image from "The World's End"? Tell us in the comments section below or on Facebook and Twitter.