"The Hobbit" TV spot offers first glimpse at Smaug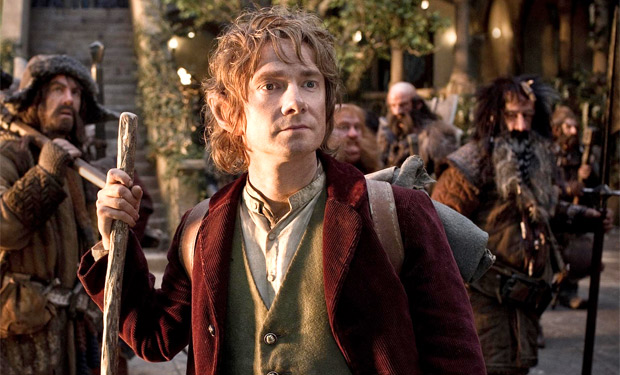 Posted by Terri Schwartz on
At long last, we have our first glimpse at Smaug. A new TV spot for "The Hobbit: An Unexpected Journey" has revealed a quick first look at the dragon that acts as the central villain in Peter Jackson's three "The Hobbit" films.
There are some pretty clear shots of Smaug swooping over what looks like it's the village of Dale, as well as destroying some of the town's buildings. Unfortunately, we don't get to hear what Smaug's voice sounds like, which is disappointing because he is voiced by none other than Benedict Cumberbatch.
"You just have to lose your shit on a carpeted floor, in a place that looks a little bit like a mundane government building," Cumberbatch said in October of doing voice work for the movie. "It was just me as well, with four static cameras and all the sensors. Then the boys at Weta work their magic… It's very freeing, once you put the suit on and the sensors. I've never felt less encumbered, actually. And you have to be. You have to be free."
"The Hobbit: An Unexpected Journey" tells the first part of Bilbo Baggins' epic adventure from Hobbiton to the Lonely Mountain. Along the way, he'll befriend dwarves, face off against goblins, meet a dragon and discover the One Ring that will change his life forever.
"The Hobbit: The Desolation of Smaug" is due in theaters on December 13, 2013, while "The Hobbit: There and Back Again" comes out July 18, 2014.
Are you looking forward to "The Hobbit"? Tell us in the comments section below or on Facebook and Twitter.