"The Hobbit: The Desolation of Smaug" debuts first image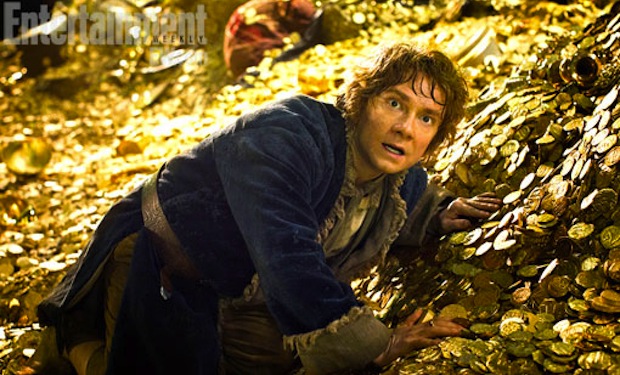 Posted by Terri Schwartz on
"The Hobbit: An Unexpected Journey" hits theaters in a week, but we already have our first look at its sequel. The first image from "The Hobbit: The Desolation of Smaug" has been released and shows Bilbo Baggins in the den of Smaug.
The photo was released by Entertainment Weekly, which earlier today also gave us our first look at Legolas in the new "Hobbit" films. The magazine doesn't say exactly when this image will take place in the movie, but it did promise that there's much more of the story to tell after Bilbo first encounters Smaug.
"The dragon is a huge, wonderful, amazing part of the story, but it doesn't end there," screenwriter and producer Philippa Boyens told EW. "Everyone can suspect there's a rather large battle in film three."
"The Hobbit: An Unexpected Journey" tells the first part of Bilbo Baggins' epic adventure from Hobbiton to the Lonely Mountain. Along the way, he'll befriend dwarves, face off against goblins, meet a dragon and discover the One Ring that will change his life forever.
"The Hobbit: The Desolation of Smaug" is due in theaters on December 13, 2013, while "The Hobbit: There and Back Again" comes out July 18, 2014.
What do you think of this new look at "The Desolation of Smaug"? Do you think it's too early to start promoting that movie? Tell us in the comments section below or on Facebook and Twitter.