"The Hobbit" clip shows the dwarves singing "Misty Mountains"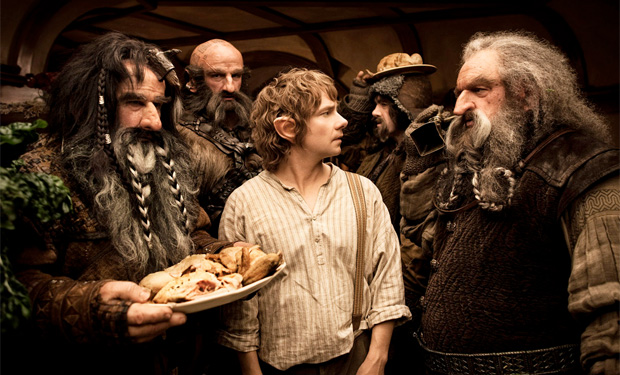 Posted by Terri Schwartz on
One of the scenes in "The Hobbit: An Unexpected Journey" that fans are most looking forward to getting to watch is the one where the dwarves sing. Well, now you don't need to wait two more days to see it in theaters, because Warner Bros. has released a clip showing Bilbo Baggins' dwarf allies singing "Misty Mountains" already.
It's the same scene that is teased in the film's trailer, but this clip gives a better sense of how director Peter Jackson shot his movie than that did. From his sweeping tracking shots to his close ups of the dwarves, it's clear that Jackson has lovingly shot his follow-up to his award-winning "Lord of the Rings" trilogy.
It's exciting that so much of the dwarf culture has made its way into this film, and somehow we doubt that this "Misty Mountains" scene is the only time we'll witness the dwarves sing. With two more movies to go in "The Hobbit" trilogy, Jackson has got plenty of time to jam pack as much of J.R.R. Tolkien's mythology into the movie as he can.
"The Hobbit: An Unexpected Journey" tells the first part of Bilbo Baggins' epic adventure from Hobbiton to the Lonely Mountain. Along the way, he'll befriend dwarves, face off against goblins, meet a dragon and discover the One Ring that will change his life forever.
"The Hobbit: The Desolation of Smaug" is due in theaters on December 13, 2013, while "The Hobbit: There and Back Again" comes out July 18, 2014.
Are you looking forward to seeing the dwarves sing? Tell us in the comments section below or on Facebook and Twitter.