"The Hobbit" breaks December record with $84.8 million opening weekend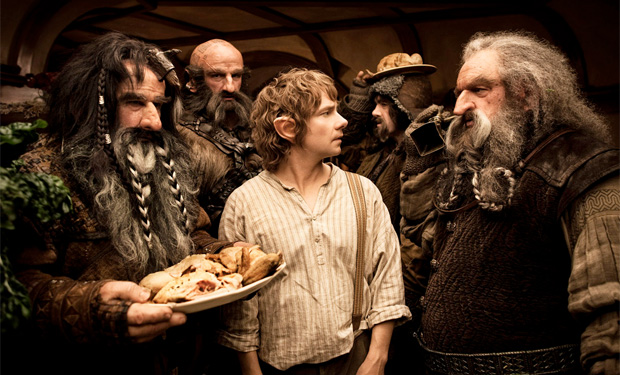 Posted by Terri Schwartz on
"The Hobbit: An Unexpected Journey" has done something decidedly expected: The Peter Jackson movie took the record for biggest December opening weekend.
Considering all the hype for the newest chapter in Jackson's "Lord of the Rings" saga, it shouldn't come as much of a surprise to learn that the film made $84.8 million during its first three days of release. It passed the previous record holder easily, as 2007's "I Am Legend" had held the title with its $72.6 million opening weekend.
"The Hobbit" dominated the box office this weekend, as "Rise of the Guardians" came in second place with $7.4 million, "Lincoln" came in third with $7.2 million, "Skyfall" dropped from first to fourth with $7 million and "Life of Pi" rounded out the top five with $5.4 million.
Of course, "The Hobbit: An Unexpected Journey" had a little help that the three "Lord of the Rings" movies didn't have. It was released in 3D, IMAX, IMAX 3D and 48 frames-per-second and, though the higher frame rate didn't include a higher price tag, those formats definitely contributed to "The Hobbit's" broken record. Around 49 percent of the film's box office total came from its 3D showings.
It remains to be seen whether the first "The Hobbit" film will do as well as the three "Lord of the Rings" movies. Those all made more than $300 million domestic, and "An Unexpected Journey" seems on track to do the same.
"The Hobbit: An Unexpected Journey" tells the first part of Bilbo Baggins' epic adventure from Hobbiton to the Lonely Mountain. Along the way, he'll befriend dwarves, face off against goblins, meet a dragon and discover the One Ring that will change his life forever.
"The Hobbit: The Desolation of Smaug" is due in theaters on December 13, 2013, while "The Hobbit: There and Back Again" comes out July 18, 2014.
Did you see "The Hobbit" opening weekend? What did you think? Tell us in the comments section below or on Facebook and Twitter.