"The Hobbit: An Unexpected Journey" TV spot: A game of riddles with Gollum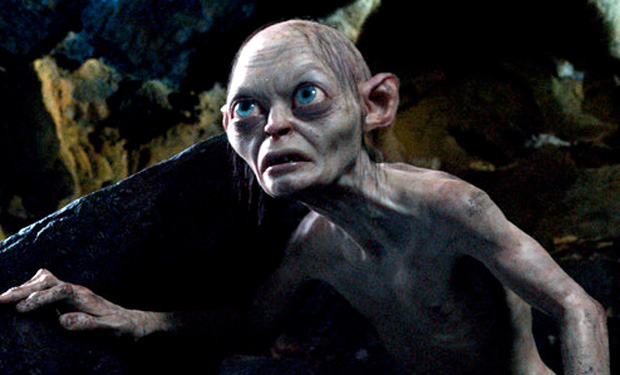 Posted by Terri Schwartz on
Nothing will tie "The Hobbit: An Unexpected Journey" in to Peter Jackson's "The Lord of the Rings" trilogy as much as the scene where Bilbo Baggins first meets Gollum. It was a scene that was featured in "The Lord of the Rings: The Fellowship of the Ring," and it's a scene that will be pivotal in the upcoming film as well.
That fateful meeting is the focus of a new TV spot for the upcoming film, which shows Bilbo and Gollum playing their game of riddles. Fans of J.R.R. Tolkien's beloved series know how that story ends, but it will likely be a tense scene to watch regardless. After all, we know that Gollum doesn't easily say goodbye to his "precious."
Still, there is plenty in this movie that fans haven't seen before. Jackson expanded on the story of "The Hobbit" by using some of the material contained in the Appendices at the end of "The Return of the King" novel, so "The Hobbit" films will tell the story of Gandalf the Grey and the White Council as much as it does the story of Bilbo. Color us curious about this new project and how it brings the various pieces of the Middle-Earth together in a new trilogy.
"The Hobbit: An Unexpected Journey" tells the first part of Bilbo Baggins' epic adventure from Hobbiton to the Lonely Mountain. Along the way, he'll befriend dwarves, face off against goblins, meet a dragon and discover the One Ring that will change his life forever.
"The Hobbit: The Desolation of Smaug" is due in theaters on December 13, 2013, while "The Hobbit: There and Back Again" comes out July 18, 2014.
What are you most looking forward to seeing in "The Hobbit" trilogy? Tell us in the comments section below or on Facebook and Twitter.