"The Amazing Spider-Man #700" ends with surprising fate for Peter Parker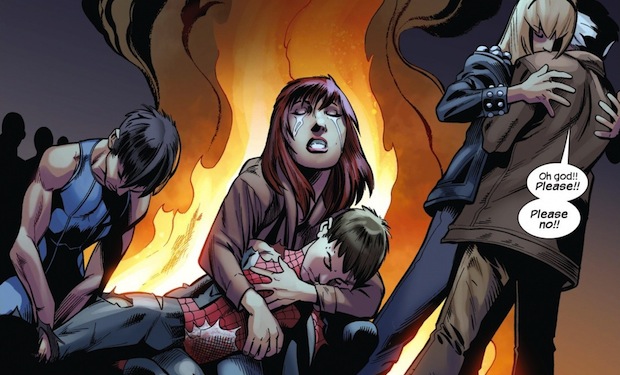 Posted by Terri Schwartz on
Let's just say things are going to get real interesting for Marc Webb's "Spider-Man" film series if he follows the "Amazing Spider-Man" comics story arc. Marvel ended "The Amazing Spider-Man" at issue 700 on Dec. 26, and it resolved in a twist that surprised many.
Consider this your obligatory spoiler alert if you don't want to know what happened.
What's interesting about the final issue in the "Amazing Spider-Man" is not that Peter Parker dies at the end, but rather the way he is brought back. Obviously Spidey is going to stick around in some capacity since "The Superior Spider-Man #1" comes out on Jan. 9, but we doubt anyone expected for a dying Doc Ock to switch bodies with Peter and become the new Spider-Man. That means Peter is trapped in the aging body of Doctor Octopus.
Yes, seriously, and it's something that Marvel writer Dan Slott is really excited about. He told USA Today, "This is Moriarty in the head of Sherlock. This is Prince John inside of Robin Hood. This is the greatest villain inside the body of the greatest hero and trying to do good. This is a guy who was a couple steps way from a bucket list, and now he's got a whole new lease on life. That's really going to change him."
"Superior" editor Stephen Wacker added, "We want to do Spider-Man by way of Batman — a little creepier and darker."
In a separate interview with Comic Book Resources, Wacker explained what this means for "Superior" when it launches.
"It's also what the good part of our first year of Superior is about: Doc behaving in a manner he's not accustomed to," he said. "We see a more sympathetic side of Doctor Octopus. We couldn't have a Spider-Man who was running around murdering people. And I have no interest in seeing that sort of character win."
What do you think of having Doc Ock become the new Spider-Man? Tell us in the comments section below or on Facebook and Twitter.