Ten Sacred Cows Destroyed By Doug Stanhope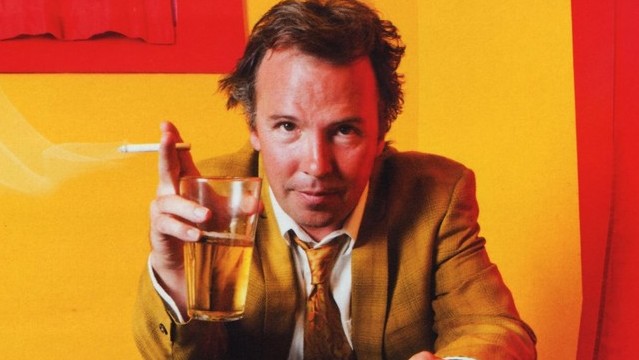 Posted by Andy Hunsaker on
Last year, on Louis C.K.'s breakout hit series "Louie," Doug Stanhope played Eddie, an old friend and peer of Louie's who hadn't found any success in comedy, nor any happiness in life. Sharing Louie's low tolerance for bullshit, Eddie confided in him that he was just passing through town on his way to Boston, where he would do his final show before killing himself. Every argument Louie tries to muster to convince him otherwise is quickly and brutally shot down, and eventually, he has to just acquiesce to Eddie's intentions and bid him farewell. With a strong performance from both men, they destroyed the common wisdom that suicide should never be a viable option.
The more viscerally affecting part of that episode is that Eddie doesn't seem all that far removed from Stanhope himself, aside from the quality of his comedy. Stanhope's stage persona is a nihilistic man who has to blind himself on alcohol and drugs to enjoy any small part of the bleak, unending hellscape of existence, but as he often says, he's funnier when he's drunk, which means he's not blinding himself at all. His methodology is to attack and deconstruct with brutal efficiency not just the garden variety bullshit of pop culture that most comedians mock, but also the much more deeply held bullshit beliefs that we don't often remember to question – and it's never without controversy. Here are ten sacred cows that Doug Stanhope has verbally destroyed.
---
1. Royalty
We'll start with an easy one that still comes with an edge. Most folks in America realize how ridiculous the obsession with England's royal family is, but few people will actually go overseas and tell the Queen's subjects that they're backwoods simpletons and "bootlicking fucking supplicants" for allowing the whole outdated institution of "leeches" to continue to exist. "Do you have wizards and fairies, too?"
---
2. Hard work is a virtue
That's something you tend to believe instinctively – success is achieved through hard work and the discipline to keep working hard. Stanhope begs to differ, citing his own career path was carved out through drinking, smoking and drugs. Let him explain how even his Alcoholics Anonymous friends have had to give up and admit that drinking serves him well.
---
3. Dying young is a tragedy
Touching on the concept of his turn on "Louie," Stanhope tells us exactly why the early deaths of artists like Kurt Cobain, Jimi Hendrix and Lenny Bruce might've been for the best, and how he may be approaching that point himself.
---
4. Children
Continuing the "death is good" theme, Stanhope takes the genuine desire to better the state of the world through environmentalism and dismisses it as ineffectual in dealing with the real problem – the fact that you want to have children in a world that's desperately overpopulated and can't handle any more people. Thus, abortion is green.
---
5. Sex
Yes, even this, the core drive of many people's existences, the instinctive all-consuming desire to copulate with others, is torn apart as pretty pathetic and shameful. "It's not bad. It's free fun for poor people," he admits, before explaining it's such a monumental anticlimax and so ridiculously overblown that it completely stunts our potential as a species.