"Star Trek Into Darkness" theatrical trailer premieres online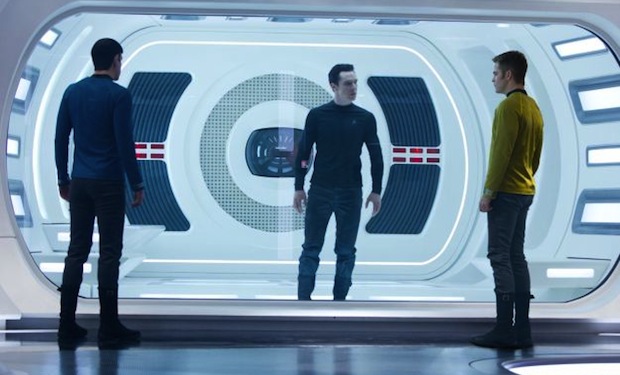 Posted by Terri Schwartz on
Missed "The Hobbit: An Unexpected Journey" this weekend, or decided to see the "Star Trek Into Darkness" prologue instead? Well you're in luck, because the full theatrical trailer for the movie has now made its way online.
This time there's no trying to hide Benedict Cumberbatch's villain character or the fact that this movie doesn't bode well for the crew of the Enterprise. There is a bit more meat to this trailer than the one released last week, but not that much to go on plot wise.
Though we might not be able to puzzle out the role Cumberbatch's John Harrison has to play based on the trailer, he has elaborated a bit more about his villainous character during an interview with TrekMovie.com.
"[John Harrison is] someone who's a fearsome warrior and he's an expert in hand-to-hand combat and weaponry, as well as being a psychological terrorist — he's a great manipulator of minds to perform his intentions and do his bidding," he said. "But he has a cause; however violent and destructive the effects of his actions are, the reasons and intentions behind them are pretty noble, so hopefully at some stage in the story you'll have a sympathy for him, which should be unexpected but should be genuine. He's fighting for something he believes in, as strong as those who are defending Starfleet and the Enterprise itself."
"Star Trek Into Darkness" is directed by J.J. Abrams and stars Pine, Zachary Quinto, Zoe Saldana, Simon Pegg, Anton Yelchin, Karl Urban, John Cho and Bruce Greenwood. Newcomers Alice Eve and Benedict Cumberbatch have been added in undisclosed roles. The film is slated to hit theaters on May 17 in IMAX and 3D. It's been revealed that over 40 minutes of "Star Trek Into Darkness" will be shown in IMAX.
What are you most looking forward to about "Star Trek Into Darkness"? Tell us in the comments section below or on Facebook and Twitter.