"Star Trek Into Darkness": Benedict Cumberbatch and Alice Eve's roles revealed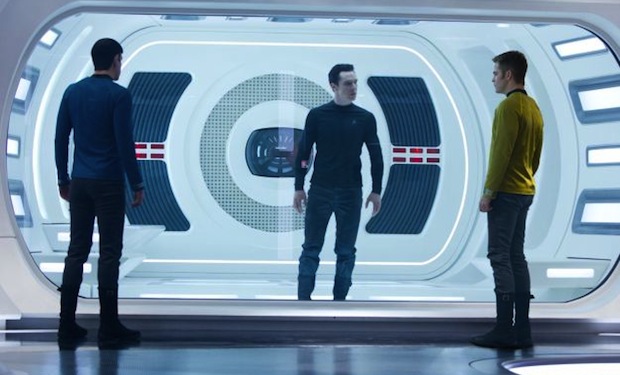 Posted by Terri Schwartz on
Two of the biggest mysteries surrounding "Star Trek Into Darkness" have been resolved, but they don't give us much more insight than we already had. The characters that Benedict Cumberbatch and Alice Eve are playing in the upcoming movie have been revealed, and they're a little anti-climactic.
The Cumberbatch news comes first: His character's name is John Harrison. Not Khan or Gary Mitchell, but rather a character who only appeared in the first season of the series as a rather unimportant character. Many are assuming that the name is a decoy, as it was displayed casually with the above picture, but it could be that the character of John Harrison takes on a role similar to that of Mitchell or Khan in this alternate universe. Regardless, it's clear that he has a bone to pick with Captain Kirk.
As for Eve, it was revealed at a meeting at Paramount Pictures that she will be portraying Carol Marcus. In the original "Star Trek" timeline, Carol appeared in "Star Trek II: The Wrath of Khan" and ended up being the mother of Kirk's son, David. They decided it would be better if she raised the child alone, though it remains to be seen how much of that translates into this new movie. Eve likely will act as a love interest to Chris Pine, but whether or not Carol plays as significant a role — and whether or not her inclusion points to Cumberbatch being Khan — has yet to be seen.
"Star Trek Into Darkness" is directed by J.J. Abrams and stars Pine, Cumberbatch, Eve, Zachary Quinto, Zoe Saldana, Simon Pegg, Anton Yelchin, Karl Urban, John Cho and Bruce Greenwood. Newcomers Alice Eve and Benedict Cumberbatch have been added in undisclosed roles. The film is slated to hit theaters on May 17 in IMAX and 3D.
Who do you think Cumberbatch is actually playing? What role do you think Eve has? Tell us in the comments section below or on Facebook and Twitter.