Samuel L. Jackson wants a role in "Star Wars: Episode VII"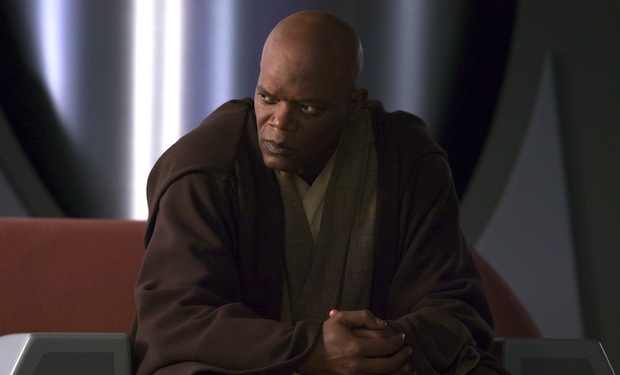 Posted by Terri Schwartz on
While we're still waiting to find out whether Mark Hamill, Carrie Fisher and Harrison Ford will be officially returning for the upcoming "Star Wars" sequel trilogy, there is a line of actors who played secondary characters in that universe lining up to say that they want another slice of the "Star Wars" universe. Chief among them is Samuel L. Jackson, who recently came forward to say that he absolutely wants to have a role in the forthcoming movies.
Jackson served as the Spike VGAs host during this year's awards show, and he was asked about his response to the news that Disney bought Lucasfilm and is prepping more "Star Wars" movies while he walked the red carpet. It turns out that Jackson was pretty excited by the news.
"I'm not surprised but totally geeked by the idea of there being more 'Star Wars,'" Jackson told E! News. "It's like, okay, Obi-Wan was dead when episode four started, so maybe everyone thinks I'm dead and we'll find out what happened to Mace Windu. I can come back as one-armed or a one-handed Jedi that's still around that didn't actually die."
When asked if he wanted a role in the upcoming movie, Jackson was totally on board. We aren't quite sure how the story is going to get around the fact that he wasn't present in the original trilogy, but he seems to have faith that they'll find a way.
"I could do that or be a ghost hologram. I don't care. I just want to stay associated with the franchise. Not that I won't because I've been in three of them," he said.
"Star Wars: Episode VII" is due out in 2015 with each subsequent film coming out a year or two after that. There have been no directors chosen for any of the movies, though Matthew Vaughn could helm "Episode VII," and no confirmed actors — new or returning — despite a plethora of rumors. It's been reported that there could be two spinoff films in the works as well.
Would you want to see Mace Windu return in the new movie? Let us know in the comments section below or on Facebook and Twitter.