Quentin Tarantino talks possible "Inglourious Basterds" spinoff "Killer Crow"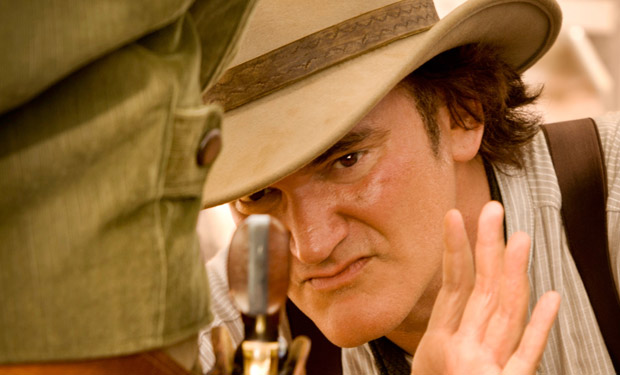 Posted by Terri Schwartz on
If you felt like "Inglourious Basterds" and "Django Unchained" were somehow connected, then you would be right. Quentin Tarantino has come forward in a new interview to say that he considers them to be two parts in the same "trilogy," and is planning a third film that would conclude their thematic arc.
"I don't know exactly when I'm going to do it, but there's something about this that would suggest a trilogy," he told The Root (via /Film). "My original idea for 'Inglourious Basterds' way back when was that this [would be] a huge story that included the [smaller] story that you saw in the film, but also followed a bunch of black troops, and they had been fucked over by the American military and kind of go apeshit."
He continued, "The way Lt. Aldo Raine and the Basterds are having an 'Apache resistance' — [the] black troops go on an Apache warpath and kill a bunch of white soldiers and white officers on a military base and are just making a warpath to Switzerland. … So that was always going to be part of it. And I was going to do it as a miniseries, and that was going to be one of the big storylines. When I decided to try to turn it into a movie, that was a section I had to take out to help tame my material. I have most of that written. It's ready to go; I just have to write the second half of it."
Since "Django" takes place chronologically before "Inglourious," it's very likely that we'll see some mention of Django or Dr. King Schultz in the third film, which Tarantino is calling "Killer Crow." As for whether or not that will be Tarantino's next film, that's yet to be determined, though he has previously said he doesn't have that many left in him.
"I'm on a journey that needs to have an end and not be about me trying to get another job. I want this artistic journey to have a climax. I want to work toward something," he told Playboy. "You stop when you stop, but in a fanciful world, 10 movies in my filmography would be nice. I've made seven. If I have a change of heart, if I come up with a new story, I could come back. But if I stop at 10, that would be okay as an artistic statement."
Would you want to see a sequel to "Inglourious Basterds"? Tell us in the comments section below or on Facebook and Twitter.