Michael Bay's "Pain & Gain" trailer unites Mark Wahlberg and Dwayne Johnson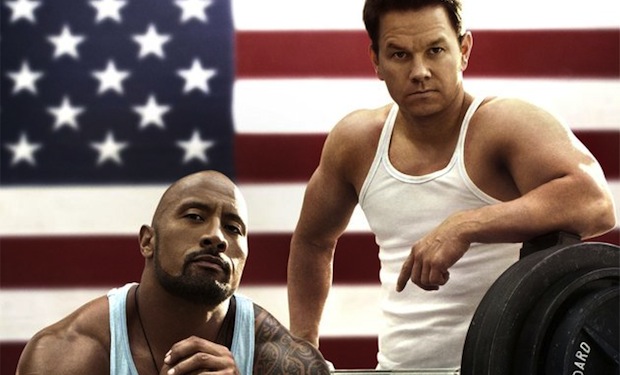 Posted by Terri Schwartz on
What defines a Michael Bay movie more than steroids, strippers and action? After spending the past five years working on the "Transformers" franchise, he's returned to his "Bad Boys" roots and is examining the seedy underbelly of Miami in "Pain & Gain."
Instead of telling the story of bad boys on the good side of the law, now he's examining the tale of men working for the "American dream" by whatever means they can. In this case, it's Mark Wahlberg, Dwayne Johnson and Anthony Mackie as body builders who became criminals for the sake of some quick cash. Of course, things go terribly wrong, or this wouldn't be a good — true — story.
And it is true. Miami New Times published a three-part feature in 1999 called "Pain & Gain" that tells the story of the real-life Miami Sun Gym gang and all their terrible misadventures that led two of them to get death sentences in Florida. Judging by this new trailer, the actual story of Daniel Lugo and the men he convinced to help him and the one in "Pain & Gain" are actually pretty similar.
It only helps that the film is led by Wahlberg, Johnson, Mackie and Ed Harris, and has supporting help from Rebel Wilson, Tony Shalhoub, Rob Corddry and Ken Jeong. With that cast, even Bay can't go wrong — and we doubt he will go wrong in his element. Keep in mind that this film is what convinced Wahlberg to star in "Transformers 4" — and convinced Bay that Wahlberg was his leading man — so that's definitely a selling point.
"Pain & Gain" is due in theaters on April 26, 2013.
What do you think of the "Pain & Gain" trailer? Tell us in the comments section below or on Facebook and Twitter.