"Pacific Rim" trailer has monsters, robots and GLaDOS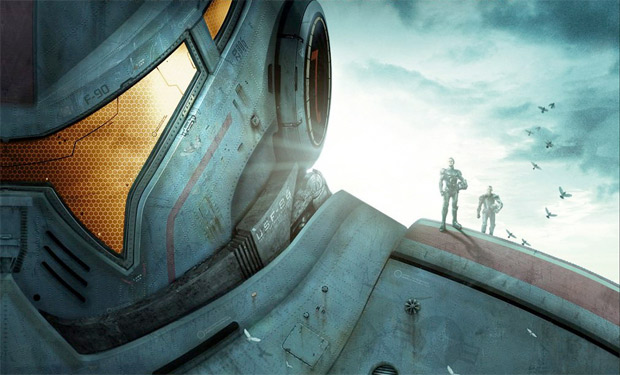 Posted by Terri Schwartz on
Guillermo del Toro has made us wait for the trailer for "Pacific Rim," and boy was it worth it. The first look at the "Pan's Labyrinth" helmer's monsters versus robots blockbuster looks potentially even more awesome than we'd always dreamed it would be.
The trailer is narrated by Jax Teller "Sons of Anarchy" star Charlie Hunnam as he explains how the alien race the Kaiju tried to destroy the Earth. Though we don't get many clear shots of those giant monsters, they look just as great as we'd hoped they would with del Toro behind the wheel. Humanity designed giant robots, the Jagers, in response to the Kaiju, and, like something out of "Mobile Suit Gundam," we see both creatures clash in the epic war for the fate of Earth.
The best moment in the trailer is when the voice of GLaDOS, the villain from the amazingly wonderful video games "Portal" and "Portal 2," pops up. It's likely that del Toro just asked voice actress Ellen McLain to voice the A.I. character in his movie as well, but considering the fact she's just doing GLaDOS all over again, that is a nice nod to video game nerds everywhere.
"Pacific Rim" stars Elba, Hunnam, Charlie Day, Rinko Kikuchi, Max Martini, Willem Dafoe, Robert Kazinsky, Clifton Collins Jr., Diego Klattenhoff and Ron Perlman. It's due in theaters on July 17, 2013. Here's the official synopsis:
When legions of monstrous creatures, known as Kaiju, started rising from the sea, a war began that would take millions of lives and consume humanity's resources for years on end. To combat the giant Kaiju, a special type of weapon was devised: massive robots, called Jaegers, which are controlled simultaneously by two pilots whose minds are locked in a neural bridge. But even the Jaegers are proving nearly defenseless in the face of the relentless Kaiju. On the verge of defeat, the forces defending mankind have no choice but to turn to two unlikely heroes—a washed up former pilot (Charlie Hunnam) and an untested trainee (Rinko Kikuchi)—who are teamed to drive a legendary but seemingly obsolete Jaeger from the past. Together, they stand as mankind's last hope against the mounting apocalypse.
What do you think of the "Pacific Rim" trailer? Tell us in the comments section below or on Facebook and Twitter.