"Oz: The Great and Powerful" poster reveals a Wicked Witch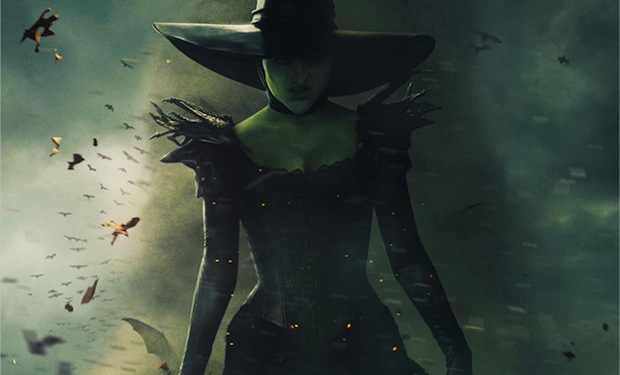 Posted by Terri Schwartz on
It's a testament to the great makeup effects in "Oz: The Great and Powerful" that we aren't entirely sure which actress in the film is playing the witch on its new poster. It certainly isn't Michelle Williams, who plays the Good Witch of the North Glinda, but is it Mila Kunis' Theodora or Rachel Weisz' Evanora? Our bets are on Weisz, but kudos to the designers for making us wonder which witch is which.
Weisz' Evanora is reportedly the Wicked Witch of the East, the same witch who gets a house dropped on her at the beginning of "The Wizard of Oz." She's wearing the ruby red slippers that Dorothy ends up taking, and appropriately, this witch's entire shoe region is shrouded by the "Oz: The Great and Powerful" logo. That means Kunis plays the Wicked Witch of the West, who seems to actually be a pretty decent person to begin with based on the trailers for the film that we've seen so far.
One thing's for certain: Bad things are coming to Oz along with its wonderful wizard. It seems as though James Franco's Oscar Diggs stirs up a whole bunch of trouble when he accidentally lands in Oz in his hot air balloon. It remains to be seen if that trouble was already brewing, or if he is the one who causes all the problems.
The film, directed by Sam Raimi, stars James Franco as Oscar Diggs — the man who eventually becomes the man behind the curtain: the Wizard of Oz. The cast also includes Mila Kunis, Rachel Weisz and Michelle Williams, who star as witches Oscar meets during his adventures in the Land of Oz. Though it's made many years later, it's easy to see the parallels Raimi is trying to draw both visually and story-wise between "The Wizard of Oz" and this film.
"Oz the Great and Powerful" is due in theaters on March 8, 2013.
Who do you think is playing the witch in the poster? Tell us in the comments section below or on Facebook and Twitter.