"On The Road" cast and director talk road trips, jazz, and the American dream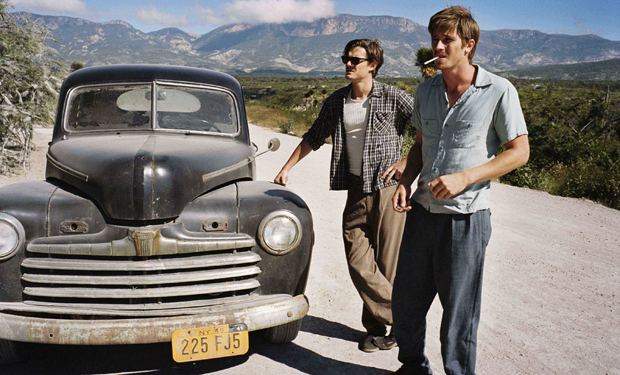 Posted by Rick Marshall on
Jack Kerouac's groundbreaking 1957 novel On The Road defined a generation when it first hit shelves, and 50 years later the story of Sal Paradise and Dean Moriarty's wild journey across postwar America will finally make it to the big screen.
While some have questioned whether Kerouac's semi-autobiographical account of his travels with Neal Cassady can possibly resonate with modern audiences, the film's supporters – including executive producer Francis Ford Coppola, who bought the rights to the story in 1979 – have long argued that the themes of music, drugs, sex, and self-discovery that fuel On The Road are as relevant today as they were when the book was first published. For director Walter Salles, the book's enduring qualities became clear when he embarked on a cross-country road trip of his own prior to filming.
"I tried to immerse myself in the world that these guys had lived in," Salles told IFC of the years he spent traveling back and forth across the country before and after filming – a series of trips he chronicled in the documentary "Searching for On The Road."
"We did that for six years intermittently, criss-crossing America," he said. "We met the characters of the book that are still alive and talked to the poets of that generation who ended up changing the cultural landscape of America."
Widely regarded as one of the most important novels of the 20th century, On The Road tells of Kerouac's introduction to Cassady in the late 1940s and the years of near-continuous traveling across North America that followed their initial meeting. While Kerouac's original draft of the book identified Neal and himself by name – as well as Allen Ginsberg, William S. Burroughs, and various other literary figures of the time – the characters were renamed in the first published edition of the book. Kerouac became Sal Paradise, Neal became Dean Moriarty, and so on.
For Salles, practical research for "On The Road" continued long after principal filming was completed, with lead Garrett Hedlund (Dean Moriarty / Neal Cassady) joining the director on yet another cross-country road trip just after shooting wrapped. The pair made their way from one coast to the other in the 1949 Hudson used during filming of the movie – the same make and model that carried Sal and Dean on their wild adventure.
"We must have broken down about nine times, but we met some of the best mechanics in the country," laughed Hedlund. "We drove through a blizzard where I actually had to drive with my head out of the window from Utica to Erie, Pennsylvania, because we didn't have window-wipers, a gas gauge, or a speedometer. I think we drove without brakes from Cincinnati to Lexington, Kentucky. We broke down in Mississippi, Arkansas, Texas, Las Vegas, New Mexico… [Laughs] We drove backroads the whole way, trying to retrace the path of Kerouac."
British actor Sam Riley, who plays Sal Paradise in the film, found that his connection with Kerouac's novel had as much to do with the music of the time as the highways.
"On one hand, there was a connection because I didn't know very much about America – like Jack, it was still new to me," he explained. "But the music, that was one of the things I really threw myself into."
Riley told IFC he immersed himself in the early jazz that fascinated Kerouac and his companions and provided a soundtrack for many of their adventures. A musician himself, Riley soon found that his phone's library of '40s and '50s jazz tracks became a valuable resource during filming.
"Before some scenes, I'd play something in the car, and that would very much help us feel a part of the place and the time," he said. "Walter would have me pick something for us, and I really began to enjoy it. In a way, that was one of my roles throughout everything. I was the one with the phone with all the bebop on it."
And whether he was speeding down a country road with Hedlund or looking to Riley for musical inspiration, Salles insisted that these were more than just helpful, atmosphere-creating experiments – they were absolutely, positively necessary to understand Kerouac's story and inhabit the characters of the novel.
"We needed to do that in order to be completely faithful to the free-form, jazz-infused narrative that is at the heart of this book," he explained. "We also needed to do that to fill it with improvisation and moments that are unexpected."
"We went from New York to the West Coast, criss-crossing America and taking those backroads trying to find unpolluted Walmart territory in order to capture the last American frontiers these guys were trying to find in their own travels," he added. "And at some point I realized that the question isn't whether those frontiers still exist today, but whether they even existed in Kerouac's time. I think that maybe they were witnessing the beginning of the end of the American dream."
"On The Road" arrives in theaters December 21 and stars Garrett Hedlund, Sam Riley, and Kristen Stewart. The film is directed by Walter Salles from a screenplay by Jose Rivera.