Jack Kerouac and Hollywood: The Good, the Bad, and the Subterranean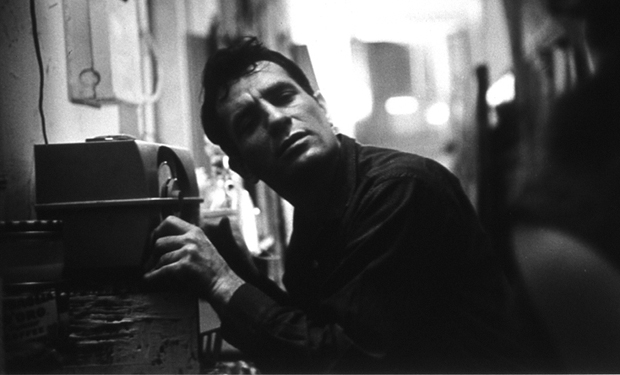 Posted by Rick Marshall on
With this week's release of "On The Road," the new film based on Jack Kerouac's generation-defining novel, the work of the celebrated French-Canadian author regarded as one of the founders of the "Beat" generation has found its way into the spotlight once again. Directed by Walter Salles, the film is the latest in a long list of attempts to bring Kerouac's work to the big screen, with precious few of those attempts resulting in a finished movie – and even fewer that are worth watching.
While it's still too early to know whether "On The Road" will stand the test of time, there's no shortage of films you can track down now that run the gamut from must-see material to unwatchable messes, all offering different takes on Kerouac's work – and in some cases, offering lessons on how not to bring his words to the screen.
Here are some of the highlights (and one notable low point) from Hollywood's love/hate relationship with Kerouac and the supporting cast of poets, writers, and larger-than-life characters that filled his books:
"Heart Beat" (1980)
John Byrum wrote and directed this film based on the autobiography of Carolyn Cassady, the former wife of Neal Cassady and a prominent figure in literary circles during the early days of the Beat Generation. "Heart Beat" chronicles the love triangle between herself, Neal, and Kerouac that developed while Kerouac was writing On the Road and how the book's publication affected the lives of its real-life characters. Sissy Spacek plays Carolyn Cassady, Nick Nolte plays Neal Cassady, and John Heard plays Kerouac. While it isn't regarded as a critical success, the film is one of the first high-profile movies based on the Beat Generation and has enjoyed a nice mix of lukewarm and occasionally very positive reviews over the years, making it one of the more prominent big-screen portrayals of the writer and his life around the time of On The Road.
"Beat" (2000)
Daniel Martinez was cast as Jack Kerouac in this film that chronicles the time leading up to the very real death of William S. Burroughs' wife, Joan Vollmer, in a notorious shooting accident. Kiefer Sutherland plays Burroughs, and he's joined by an impressive supporting cast that includes Courtney Love as Joan, Ron Livingston as Allen Ginsberg, and Norman Reedus as Lucien Carr, another prominent figure in Kerouac's literary and social circle. While Kerouac's role in the story is relatively minor, "Beat" has earned praise for the cast's portrayal of the real-life figures at the heart of the story – especially Livingston's take on Howl poet Allen Ginsberg.
"The Subterraneans" (1960)
Notable for being one of the worst, most reviled, and financially unsuccessful films based on Kerouac's work, this terrible movie cast George Peppard as Leo Percepied, Kerouac's alter ego in a 1958 story he penned about his brief romance of an African-American girl while frequenting the jazz clubs of San Francisco in the 1950s. The movie is particularly reviled for the studio's decision to change Leo's love interest from an African-American girl to a young French girl (played by Leslie Caron) – a decision made to make the movie more palatable to mainstream audiences of the time. A notorious low point in the author's Hollywood history, "The Subterraneans" is worth watching just to see how amazingly wrong an adaptation can go.
"Howl" (2010)
Currently the best-reviewed film featuring a fictional portrayal of Kerouac, this recent movie based on the creation of Allen Ginsberg's famous poem and the obscenity trial it sparked cast James Franco as Ginsberg, Todd Rotondi as Kerouac, and Jon Prescott as Neal Cassady, as well as a long list of other actors playing notable literary figures of the time. Like "Beat," this film features Kerouac as more of a supporting character than a primary figure in the narrative, though it's well worth watching for some impressive performances and surprising cameos.
"The Last Time I Committed Suicide" (1997)
Thomas Jane plays Neal Cassady in this film based on a letter Neal wrote to Kerouac in the early '50s. It's a surprisingly good, compelling film with a fantastic cast that includes Keanu Reeves as Harry, a character that's clearly a stand-in for Kerouac, and Adrien Brody as Ben, a character based on Allen Ginsberg. The film also features Claire Forlani and Gretchen Mol in supporting roles. "The Last Time I Committed Suicide" is one of those films that will fascinate fans of Kerouac's work while also entertaining anyone who isn't familiar with the author's works.
While there are quite a few other films out there based on Kerouac's life, his work, and the wild cast of characters that surrounded him, these are just a few of the highlights (and one notable low point) that are worth viewing for one reason or another. Whether you consider them "On The Road" prep or "what to watch next" material, they're a good place to start for anyone interested in learning more about Kerouac's life and work via the lens of Hollywood.
"On The Road" hits theaters December 21 and stars Garrett Hedlund as Dean Moriarty (Neal Cassady) and Sam Riley as Sal Paradise (Jack Kerouac).