Why is Superman in handcuffs in the new "Man of Steel" poster?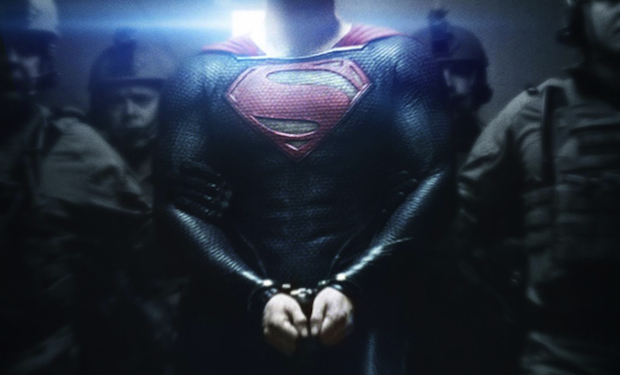 Posted by Terri Schwartz on
Just what is Superman doing in chains? That's the question raised by the new poster for Zack Snyder's "Man of Steel," which teases the upcoming summer release of Warner Bros.'s new DC universe film.
Nothing we've heard about the movie to date has led us to believe that the titular Man of Steel would be incarcerated by the law. However, it seems as though humanity doesn't recognize its hope for the future when it flies in wearing blue spandex and a red cape. For his part, Superman looks resigned to his fate, though we can only wonder what he did to get handcuffed and escorted by what look to be a special squad of law enforcement officials.
In a recent interview Snyder said that his movie won't stray far from the Superman tale fans know and love. If he's to be believed, "Man of Steel" will be the Superman story everyone wants it to be.
"We have great respect for the canon. I would say it is a clashing of stories and ideas. Superman is the king-daddy of all superheroes — to make him work is a big deal," he said. "The big challenge is if you can make people feel 'What would you do if you were Superman?' That's what we went out to do as far as we could. Superman's always been this kind of big blue boy-scout up on a throne that nobody can really touch, so we tried to make him relatable."
"Man of Steel" stars Henry Cavill, Michael Shannon, Amy Adams, Crowe, Costner, Diane Lane and Laurence Fishburne. It is due in theaters on June 14, 2013 in IMAX and 3D.
What do you think of this new poster? Tell us in the comments section below or on Facebook and Twitter.