Legolas is revealed in new "The Hobbit" still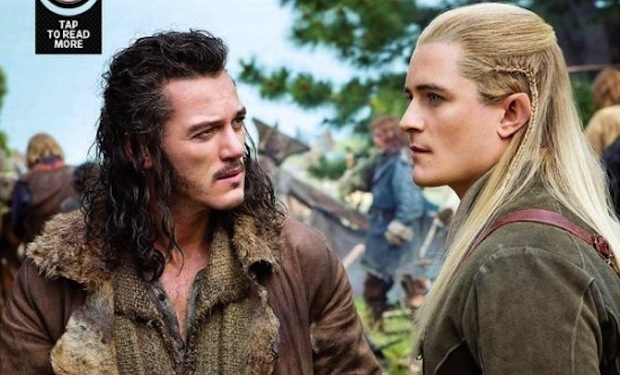 Posted by Terri Schwartz on
We still have no idea when we'll be seeing Legolas for the first time in "The Hobbit" trilogy, but at least we know what he'll look like. And, surprise, he looks a lot like he did in the "Lord of the Rings" films.
Entertainment Weekly has run the first image of Legolas and Bard the Bowman, which we have a scan of courtesy of /Film. The image is labeled as being from "There and Back Again," but it's unclear if that means it's from the third "Hobbit" movie or "The Desolation of Smaug," which was once called "There and Back Again."
In a recent interview with The Playlist, director Peter Jackson talked about his decision to expand "The Hobbit" into three movies and add in material from the expanded universe.
"It kind of surprised us a bit too," he said. "We were originally doing two films. It's really a question of what you leave out. It's misleading book, because it's written at a very breathless pace. Major events happen over two or three pages, it's like a children's story."
He added, "So once you start to develop the scenes and you do a little bit more character development than the book, plus we can adapt the appendices, which is 100 odd pages that Tolkein developed that takes place around the time of the 'The Hobbit.' And Tolkein himself wrote that to tie into 'Lord of the Rings.' So all those factors combine and give us the material to do it."
"The Hobbit: An Unexpected Journey" tells the first part of Bilbo Baggins' epic adventure from Hobbiton to the Lonely Mountain. Along the way, he'll befriend dwarves, face off against goblins, meet a dragon and discover the One Ring that will change his life forever.
"The Hobbit: The Desolation of Smaug" is due in theaters on December 13, 2013, while "The Hobbit: There and Back Again" comes out July 18, 2014.
Which returning character are you most looking forward to seeing in "The Hobbit"? Tell us in the comments section below or on Facebook and Twitter.