It's Seth Rogen, Danny McBride and James Franco vs. the apocalypse in the "This Is the End" red band trailer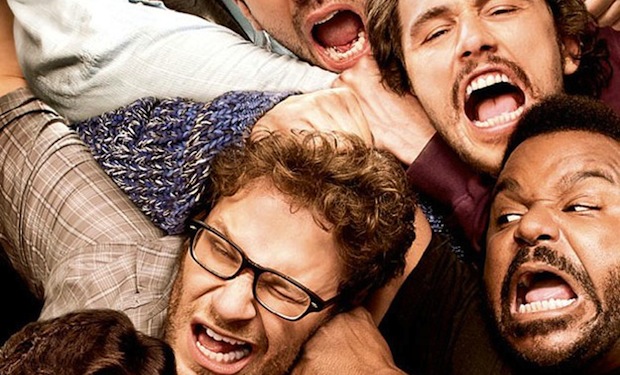 Posted by Terri Schwartz on
This might not be the end that the Mayans predicted, but it definitely is the end for some of our favorite celebrities in Hollywood. Seth Rogen, Danny McBride, James Franco, Jonah Hill, Jay Baruchel and Craig Robinson are all facing off against a pretty devastating apocalypse in the new — and long-awaited — trailer for "This Is The End."
That name not sound familiar to you? The film was formerly called "The Apocalypse," and before that it was "Jay and Seth vs. The Apocalypse." In fact, the whole premise for the project started off as a skit that Rogen and Baruchel released which was a trailer for a film called "Jay and Seth vs. The Apocalypse."
Fast-forward to today, and that dream has become a reality. All we need is those men already listed standing in a room together and talking for two hours to call this movie a win, but it looks like "This Is The End" is going to be much more than that. The trailer starts off with a hilarious intro from Rogen and Franco, and then devolves into hilarious madness. Also, we're going to put this out there right now: If there isn't a Michael Cera cameo in this film after McBride's takedown of him, we're going to cry foul.
When IFC caught up with Rogen at his "Hilarity for Charity" event in January, he revealed that he's had a lot of fun developing film, which serves as his and partner Evan Goldberg's directorial debut. As for the cast, he was just excited to bring all of his friends together.
"They're like the main characters in the movie," he said. "I'm really excited to work with those guys honestly. I don't get to see them that often and I think when we're working together is kind of when you see them the most. On top of making a good movie, I hope I just get to hang out with them also."
Here's the original "Jay and Seth vs. The Apocalypse" skit if you haven't already seen it:
What do you think of the "This Is The End" trailer? Tell us in the comments section below or on Facebook and Twitter.