"Iron Man 3" releases new, foreboding still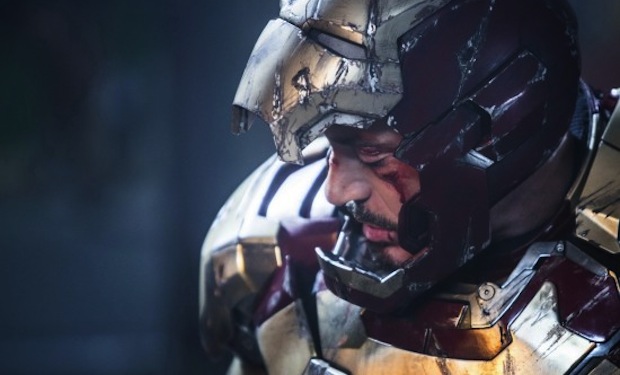 Posted by Terri Schwartz on
Tony Stark is not looking to great in the newest still from "Iron Man 3." Badly beaten and with his mask cracked, the genius billionaire playboy philanthropist actually seems like he's at as low a point as we've seen him since he was kidnapped in "Iron Man."
The image comes courtesy of Stitch Kingdom, and seems to imply that some serious and terrible things are coming Iron Man's way. But that goes against what we've heard about the movie so far. Though the trailer makes it seem like "Iron Man 3" is a very serious movie, actor James Badge Dale recently admitted that it's not.
"'IM3' is really a dark comedy with a little bit of farce," he told Glow magazine, via Just Jared. "The trick is to be able to have the audience relate to you. Director Shane Black gave me a long leash. We had a great time. Robert Downey Jr. loves the process of acting and loves to be creative with a director and his fellow actors."
Marvel Studios President Kevin Feige echoed similar sentiments in the past, saying, "It's not a serious movie, but we seriously dig into exploring more of Tony. The trick is just trying to make great movies. We try to make them all great, all different and all fresh. What you'll see in 'Iron Man 3' is some very unique directions that were taken."
"Iron Man 3" is based on Warren Ellis's "Iron Man" comic book series "Extremis." The flick is directed by Shane Black and also stars Robert Downey Jr., Gwyneth Paltrow, Don Cheadle, Guy Pearce, Rebecca Hall, Jon Favreau, Wang Xueqi and Ben Kingsley. Pearce's Aldrich Killian looks to be the movie's big bad as a co-creator of the Extremis serum, which creates a new breed of supersoldier. He and partner Maya Hansen, played by Hall, opt to place the serum in the hands of terrorists and set them up against Iron Man in order to prove the strength of Extremis. It was announced at San Diego Comic-Con that Kingsley will play The Mandarin. "Iron Man 3" will hit theaters on May 3, 2013.
What are you most looking forward to about "Iron Man 3"? Tell us in the comments section below or on Facebook and Twitter.